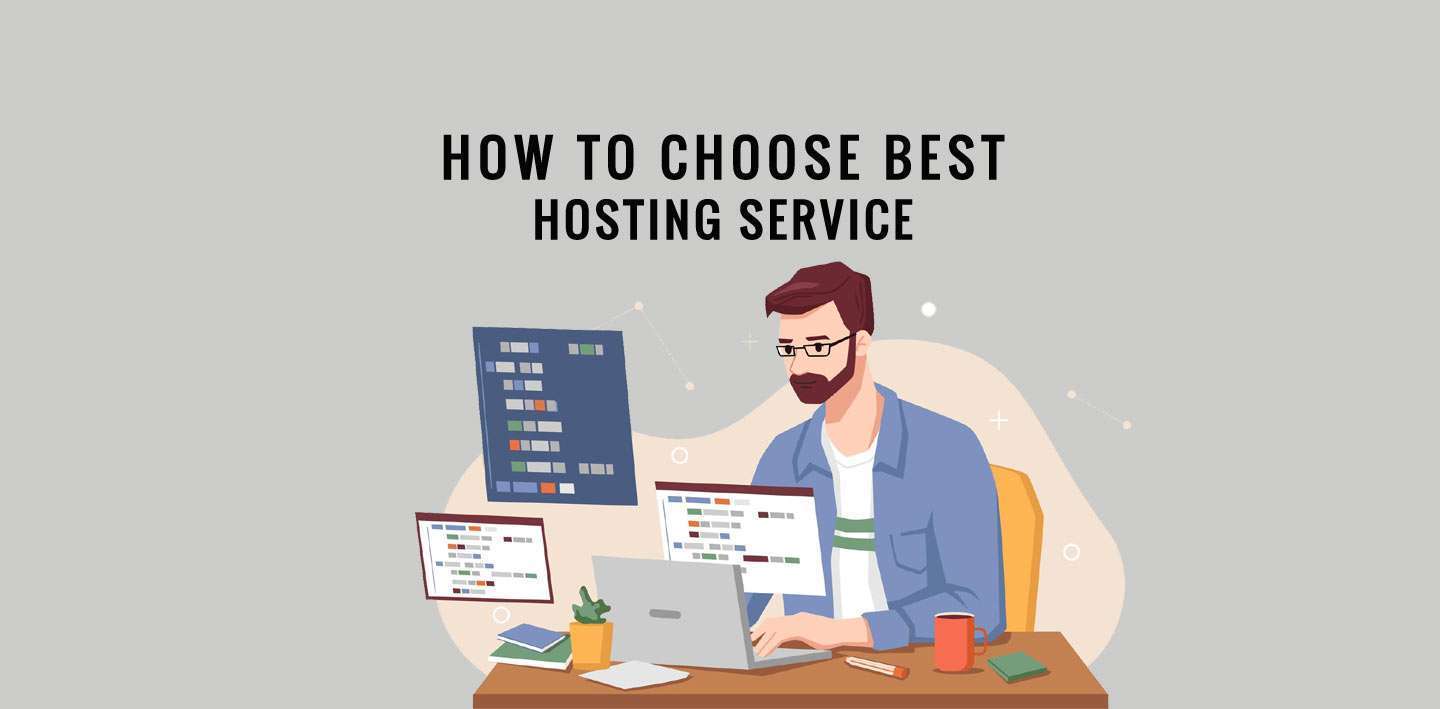 Choosing the right Web Hosting Provider is critical for your success in launching the website on the world of the web. If you choose the wrong one, you may encounter site crashes, security breaches, slow loading speeds, or the never-ending headache of dealing with poor support.
There are many web hosting companies and choosing the best one according to your needs is important for your long-term digital marketing success. Therefore, the selection process of How to Choose the Best Hosting Service may appear to be quite challenging. For your assistance, here is a guide – make sure to consider the following 15 factors before choosing the Best Hosting Service for your business.
Key Points on How to Choose the Best Hosting Service
In this article we have focused on 15 factors for Choosing the Best Hosting Service providers, as per our experience.
Uptime

Nothing could be more irritating to users as they click on your website link and experience that it is not loading. One of the major factors responsible for this is the 'Uptime' of hosting service is not up to the standard.
Uptime is basically a metric that is used to figure out the amount of time a device or system remains operational. Precisely, it signifies the quality of availability and is measured by numerals. The more closer the number to 100%, the superior availability of the site is ensured. So, while choosing your hosting service, try to find someone that offers an Uptime of around 99%.
Loading Speed

Again, a page or site that loads too slowly is unbearable to the users. This makes them quit your page while increasing the bounce rate of your page and will impact your ranking due to poor user experience as evaluated by Google. So, before choosing the provider, verify if the hosting service offers a satisfactory loading speed. Never underestimate the importance of Loading Speed because you will never want your visitors to abandon your page.
[affcoups id="4850″]
Bandwidth

Web hosting bandwidth refers to the volume of data that your website is capable to deliver to your visitors for a length of time. Insufficient Bandwidth is likely to slow down your website or may cause site crash frequently. This is irritating for the visitor. Remember that higher bandwidth equates to more visitors to access your page while enjoying an optimized speed. So, before choosing the hosting company, make sure that the bandwidth is adequate to avoid such experiences
Storage Capacity

You may need a minimum or large Storage Space for adding new files as per your website's needs. So, as you will require the necessary space, make sure that the hosting company can meet your demand to avoid running out of memory. Similarly, when you need little space, choosing cheaper plans is the right choice that helps save money. So the flexibility of storage plans is also important while plans for Unlimited Disk Space will be a great advantage.
Backup Facility

Another area that you need to look at is whether the hosting service is fitted with an automatic backup advantage. Having backups of pages and files are extremely important to recover them in the event of a server failure or hacking of your site.
[affcoups id="5001″]
SSL Certificate

As apart of the marketing plan, many hosting providers offer Free SSL Certificates along with the plan. An SSL certificate helps protect your website transactions as well as data by transforming the information encrypted form whenever any information moves through it. Make sure to go for a hosting service that offers you SSL as free and exhibit their accountability to protect your site.
Monthly Traffic

Did you know that many hosting services have a Monthly Traffic Limit? That means, their offer is given on specific numbers of access, and they will charge you extra if the traffic volume crosses that limit. If you don't agree, they will stop displaying your website. So, be careful and make sure to get this information. Finally, you are recommended to go with those that offer Unlimited Data Traffic to avoid such experience.
Data Security

With the ever-increasing number of cyberattacks, the Security of your website should be a major concern for you. It's worth noting that if your website shares an IP address with a malicious website, your website will be marked as Spam by Google once noticed by it. So, it's been vital to scrutinize carefully that the hosting service offers comprehensive security measures to protect the websites of their clients from data breaches or malicious attacks 24 / 7 hours.
[affcoups id="5379″]
Server Locations

The closer the location of your host's servers to the audience, the faster the pages will load for your visitors. So, ensuring where the Data Centers of your host are located and if there is an option to choose one among numerous server locations is important for you. With a global audience, make sure to consider a provider that offers access to a CDN.
Customer Support

When it comes to Customer Services, a web hosting service provider should be equipped with a solid customer support team with a technical background to ensure efficient assistance whenever you are in need. Any crisis that your website faces, the availability of your provider to resolve the issue as quickly as possible is important. Make sure to go through the customer reviews to evaluate the experience of its earlier customers before finalizing one.
[affcoups id="5384″]
Hosting Pricing and Plans

Although price should not be your only choice when opting for the best hosting service provider but it's obviously a major factor that takes space in your decision-making process. As you should not go with the cheaper services, equally more expensive also does not ensure high-quality services. In fact, it is more important to understand your business necessities and accordingly choose a provider as well plan that suits your budget. Many hosting providers offer special offers for an extended period of the plan. Choosing such plans can be a good idea to lower your Hosting Service Fees.
Content Management System

When it comes to building a website, it typically demands a certain degree of technical knowledge and creativity. Content Management Systems (CMS) is a tool that enables you to leverage both of them to generate a well-organized website. Look for a provider that offers an open-source content management system like WordPress that helps you create, organize and edit the contents and your website.
Verify Add-On Services/ Benefits

In this intensely competitive market, in order to stand out from the competition, many hosting services offer certain extra advantages to their customers. However, be cautious, go through every plan and thereby identify the unique advantages if any, which may be valuable and exactly meet all your needs.
Renewal and Refund Options

It makes sense to try the providers that offer a set timeline like 30 days Money-back Guarantee. This helps you try out the provider's service to ensure whether or not it meets your business need. If you find them unfit to satisfy you or not worthy to consider, in that case, you will get refund of your money without any hassle. This should be applicable while renewing or upgrading your plan too.
Take A Free Trial

Many hosting companies offer 'Free Trial' usage for a certain period for their users to experience what kind of services they can expect from the provider. This is indeed a great offer for you to figure out if it is worth considering the provider as your hosting service.
[affcoups id="5381″]
Conclusion
Hopefully, the above tips will be a helpful guide for you when you are in the dilemma about how to choose the best web hosting service. Last but not least, define your business necessitates and accordingly choose a provider matching your budget and need after thorough research.