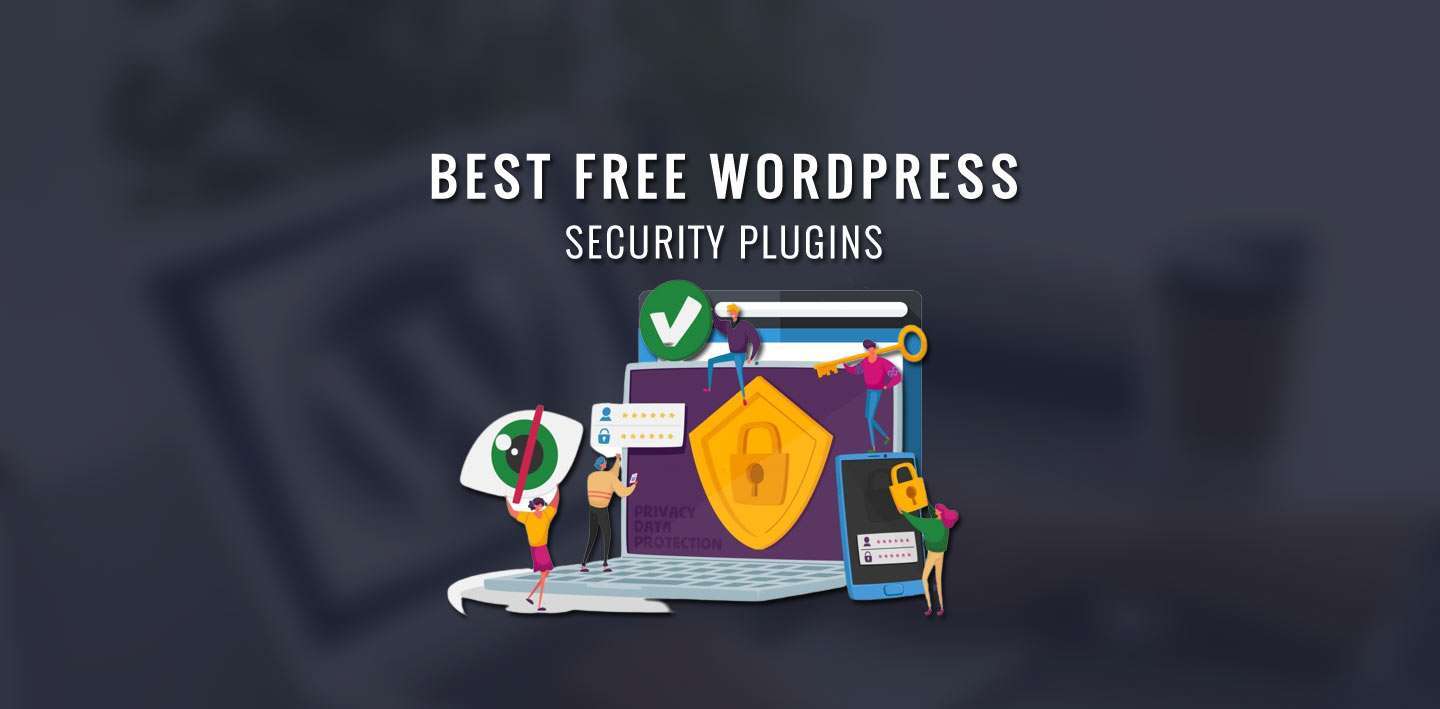 Security of your WordPress site turns out to be complex and challenging if you're not well-versed in the technicalities of your site. Thankfully, WordPress Security Plugins are potent enough to protect your site from possible attacks, threats, and susceptibilities. However, when it comes to Free WordPress Security plugins, finding and picking the best out of so many available is a real dilemma.
Considering the criticality of the issue, you must not choose a plugin that appears merely okay. What you need is an effective, dependable, and the right fit for your site. Listed below best free WordPress Security plugins that you have picked as the toppers in our reviews. Each of them is explained with its individual pros and cons to help you get to the 'best' security plugin for your website.
Best Free WordPress Security Plugins
As per our research here we elaborate the list of top 7 Best Free WordPress Security Plugins-
Wordfence

When planning to invest in a WordPress security plugins, Wordfence must be on your list of considerations. Unarguably, it's acknowledged as one of the best available free security plugins for WordPress websites, although it may consume a considerable server space and slow down your site. Given that the Wordfence malware scanner deploys a library of signature matching to detect malware, that means that if it encounters any new form of malware that is not in its library, the chances of detecting such malware could be challenging for Wordfence.
Features
Malware Scanning, Firewall Protection, Login Security, Background Reputation Checks, Country Blocking, Two-factor Authentication, and Brute Force Protection.
Pros:
Having a highly powerful malware signature database
Priority and special grade support for paid members
Easy installation
The repair option comes in the free version
Cons
Malware detection on the signature matching system.
Slowing down website
No activity log
Too many warnings
No bot protection
[affcoups id="5001″]
Remarkably, as per Wordfence – its Scanner and Firewall don't function 100% efficiently on its free version, however, the premium version is also not considerably better than its free one. Its additional clean-up charge is a bit high and might not be affordable for everyone. However, overall, our review finds choosing Wordfence can be a steady choice if you're on the lookout for a WordPress Security plugin with or without having a good budget.
Jetpack

Designed by AUTOMATTIC, Jetpack comes as an all-in-one plugin solution to assist its users to deal with their site-linked security concerns, backups, and functionalities from a single dashboard. Jetpack's security package offers Malware scanning, Two-factor authentication, brute force protection, and an activity log.
Features
Malware Scanner, Brute Force Protection, Vulnerability Scanning, Downtime Monitoring, Activity Log, Two-factor Authentication.
Pros:
Professional grade powerful support
External dashboard
Cons:
Brute force protection comes only in the Free plan
The scanner is not very effective for Malware
Vulnerability detection is poor
No firewall protection
No clean-ups
Despite having good features, a major downside of Jetpack is that they don't offer Firewall protection and Clean-ups while both of them are integral when it comes to your website security. So, it may not satisfy you for site-related security matters.
All-in-One WP Security and Firewall

As a well-popular free WordPress security plugins, All-in-One is fitted with a Security Scanner, Firewall, and some other features.  Noteworthy, a security scanner is different from a malware scanner due to the fact that it doesn't scan malware in any form. Its scanner looks for modified or revised files on your site and therefore is not fully effective to detect malware.
Key Features
Security Scanner, Spam Protection, User Account Security, Firewall Security, etc.
Pros:
Easy to use interface
Visual presentation of data
Partial backups
Cons:
No cleanups
No malware scanner
Bot protection inhibits indexing
Although All-in-One claims about its powerful bot protection system, however, as per user reviews, its protection tool stops all bots from crawling your site. That means it also acts in the same manner even for certain good bots such as (Google-bot) that needs to be crawled for indexing, which is not desirable.
Sucuri Security

Equipped with a Web application firewall, a server-side scanner, and a premium malware exclusion system Sucuri Security appears quite comprehensive for your site security. However, its malware scanner is not found so effective to identify malware during the process of evaluation
Features
Web Application Firewall, Malware Scanner, Bot Protection, IP Whitelisting, Geo-blocking, Vulnerability Scanning, Activity Log, Malware Clean-ups, and Steady Support.
Pros:
Quick Installation
Seamless and faster manual cleanup
Cons:
Unproductive malware scanning
Intricate configurations
Poor brute force protection
More than desired alerts
Perplexing firewall settings
No auto-cleanup
Although it has a manual clean-up system, but, the performance of the system is praiseworthy. However, the scanning system is not impressive.
iThemes Security

Aka Better WordPress security, the iThemes Security plugin is one of the preferred security plugins to defend your website from unwanted Intruders and Hacking. However, only a few basic security features come with the free version while upgrading is the only option. Most importantly, while it claims to identify malware on your site, however, its scanner is mostly focused to verify whether your site is on Google Blacklist.
Features
Blacklist Scanner, Login Security, IP Blocking, File Change Detection, Brute Force Protection, Partial Backups – Database.
Pros:
Steady two-factor authentication
Convenient and user friendly
Cons:
No malware scanning
No firewall
No clean-ups
Poor brute force protection standard
[affcoups id="4850″]
iThemes doesn't offer clean-ups or firewall protection. The only positive part of its security is that it comes with strong two-factor authentication as well as login security.
BulletProof Security

Equipped with several helpful features also in its free version, BulletProof Security is acknowledged as a great security plugin for WordPress sites. However, its interface is a bit more complex than its counterparts. The plugin comes with a Firewall, and a Malware Scanner, alongside a repair option for deleting infected files.
Key features
Malware Scanner, Firewall Security, Security logs.
Pros:
Cons:
No auto-cleanups
Inadequate firewall protection
The repair function is unsafe
Complex user interface
Overall, it is quite a steady security plugin choice for you especially if you are technically sound with WordPress.
Shield Security

Shield Security offers a range of security features to protect your site from Malicious attacks on your WordPress site. It monitors all user logins backed by an innovative user session management and keeps your admin and login pages protected.
Key Features
Two-factor Authentication, User-friendly Interface.
Pros:
Controls auto-updates
Antispam protection
Two-factor authentication
Cons:
Security features of the 'Free' plan are not very productive
Conclusion:
Finally, we will conclude by recommending you to go through each of the best Free WordPress Security Plugins and study their Pros and Cons. And that will get you a greater insight into deciding which will be the 'Best' WordPress Security Plugins for you.