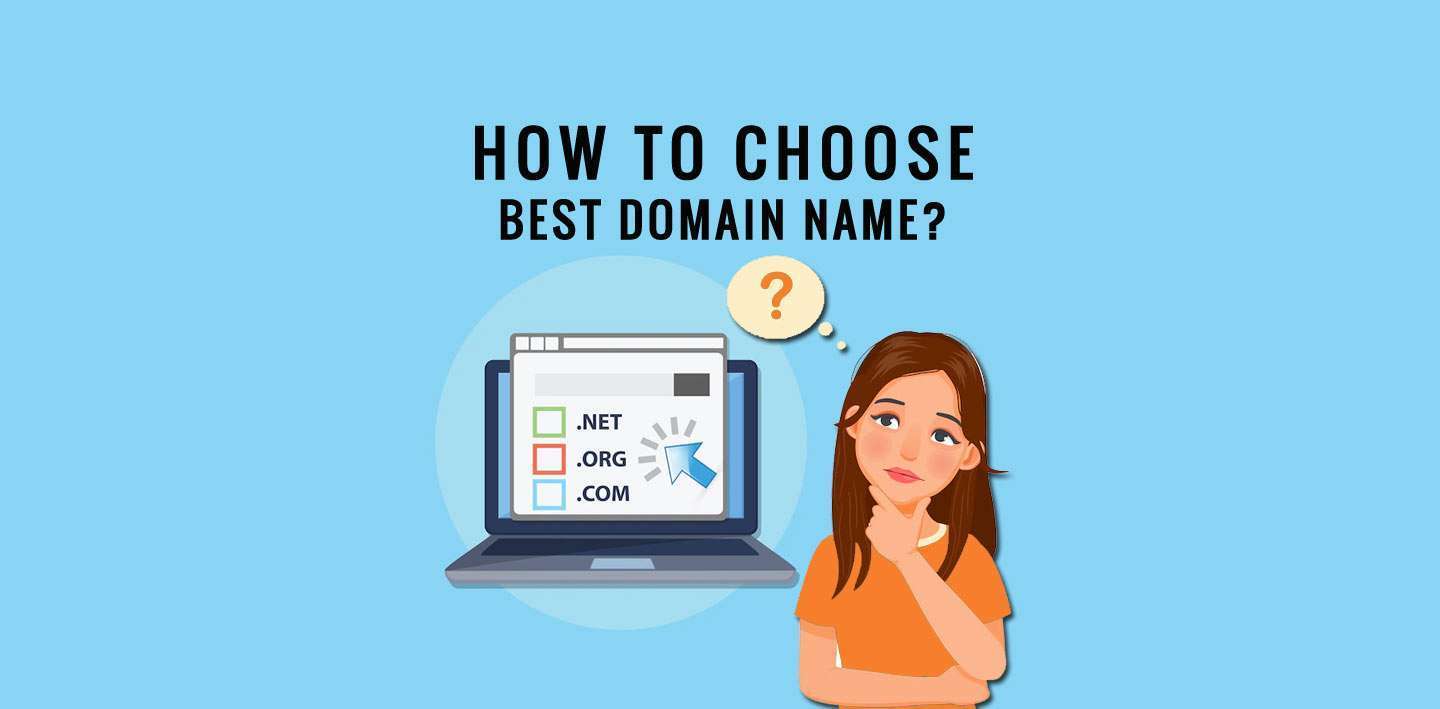 Choosing an appropriate Domain Name happens to be fairly challenging for a website owner. If chosen poorly, it could impact your business reputation inversely.
A Domain name is the address of your website. This means – to reach your website, internet users need to input a combination of words mentioning your address. From this view point, your domain offers the first impression of your business. Thus picking up the proper domain is crucial for your business success. If you are wondering How to Choose the Best and Perfect Domain Name, make sure to consider the following factors to find a productive domain name.
Key Points of How to Choose the Best and Perfect Domain Name
Here goes the list of 10 selective points to Choose the Best and Perfect Domain Name based on our experience-
Choose Your Domain Extension Diligently

Be careful before choosing your Top-level Domain (TLD) extension that comes right after the name of your site and at the last your URL. Although, .com, .org, and .net are the most demanding TLDs, however .com, is unarguably the most widespread choice.
Aside from the above, a series of TLDs like .xyz, .shop, .art as well as .technology, .marketing is becoming popular in the market. Being involved in the technological world, it may even feel appealing to adopt a TLD like .technology that boasts your business relevance, however, when it comes to the apparent trustworthiness .com is still in the dominating position. In fact, in the readers mind .com has been a hallmark of authenticity and virtually comes by default in their mind. So it makes sense to go with .com to stay credible.
Incorporate Keywords

In the success of your Domain name, Keywords play a vital role. The objective of using keywords in your domain name is it helps understand the search engines what your website is about. Aside from posting quality content and boosting user experience, keywords used in your domain can facilitate you in a higher rank building in Google.
Remember that the keywords you choose should have relevance to your business and target market. This seems to be a bit challenging task since they are already registered. This needs you to be creative while using keywords in combination to make it unique is a great idea.
However, make sure to use the Free Google Keyword Planner that enables you to find keywords based on search volume and various other factors that people typically. This can be a more particle way to explore the keywords that really work.
Pick up Short Domain Name

Similar to Keywords, the domain length also matters. It's highly recommended to pick a domain name – which is short and easily memorable. Simply put, if you choose a longer domain name, it will be difficult for your users to memorize them. And, in such a case, since users are fairly susceptible to making typos, especially with longer and critical domain names, due to wrong typing, you will lose possible traffic.
Domain Name should be Easy to Pronounce and Spell

Consider the power of word-of-mouth referrals or advertising, remember that applies in the same way when people pronounce or share your domain name. It's also ready to keep in memory and helps in flawless sharing. So pick up names that are easy in both ways while speaking or writing.
Avoid Hyphens as well as Doubled Letters
While using hyphens may appear to be an innovative way to showcase your business identity, in reality when it comes to writing – the use of hyphens becomes hard and bothersome. That makes them prone to making typos. Many people consider Hyphens as a red flag and skip them considering spam domains. Equally, avoid using double letters in your domain name. Because all these eventually, lead to poor User Experience (UX) while causing disappointment in them.
Stand Out your Brand Image with a Unique Domain Name

Having a unique domain name is the key to standing out in terms of your business niche and brand building. Depending on the area that you specialize in, you can pick up a Brand name that speaks about it. For example, if you are a Tattoo artist and you are the proprietor of the company, by choosing a domain name like smithtattoo.com not only you can position yourself and your services unique to the target audience.
Keep Space to Expand
Having flexibility in the domain name is a smart choice. So, keep the future possibilities when choosing your domain name. Despite the fact that your domain name will be focused on your industry to let users know about what services they can expect from you, keeping flexibility in it is equally important. Taking the above example of smithtattoo.com, if in future you think of providing services in piercing too.
Then this will certainly prevent you from getting customers interested in piercing services. And changing the domain name could be extremely detrimental to your business success. So, be insightful and keep all future possibilities in mind when choosing the domain name. And try to be flexible in such cases.
Make Sure to Use the Domain Name Generator

Well, you might be creative enough and spend a lot of time brainstorming, finally, you find a name that you consider to be unique. But just think for a moment that even after getting referrals of any service provider from your best buddy, are you not researching the internet to find more possibilities. Yes! You do.
Similarly, why overlook utilizing the potential of Domain Name Generator. With over 360 + million registered domain names, it could be challenging for you to find a name manually which is not only time-consuming but the chances of reaching one that is not yet registered are more than critical. With a generator, you can find millions of unique domain name ideas and pick up one in the most easiest and insightful way.
Check the Domain History
Although after having good research, you have chosen a fresh domain with relevance to your business niche. Nonetheless, there is a likelihood that the domain that you picked up was owned by some other business earlier.
You are advised to inspect the history of the domain as this might affect the rank of your site. There are various tools that you can adopt to check its background. For example, you must not be interested to purchase a domain name that was caught being involved in any unethical business.
Get the Best Domain Registrar

If you have successfully picked up your desired domain name, now choosing a Domain Registrar is important. A Domain Registrar is a company where you will be buying your domain. Make sure to check the following factors to reach the Best Domain Registrar.
Domain Transfers: Check the transfer policy of the Registrar. If the procedure is complex or expensive, skip it and find a better option.
Pricing: While many companies offer a lower price for the first year, you may find that the renewal price is considerably high. Often they may want you to enter into a multi-year contract.
Expiration Policy: In case you forget the due date of renewal of the contract, it can be bought by someone else. Make sure to find a registrar offering an auto-renewal facility integrated with a grace period.
Domain Privacy Protection: Having proper protection of your website is important. Make sure that your registrar has all sorts of security features before choosing.
Conclusion:
To Conclude, Considering the significance of choosing the Domain Name of your website for your Digital Marketing success make sure to follow the above points with diligence. We hope you will find the article greatly helpful to pick up the Best Domain Name.