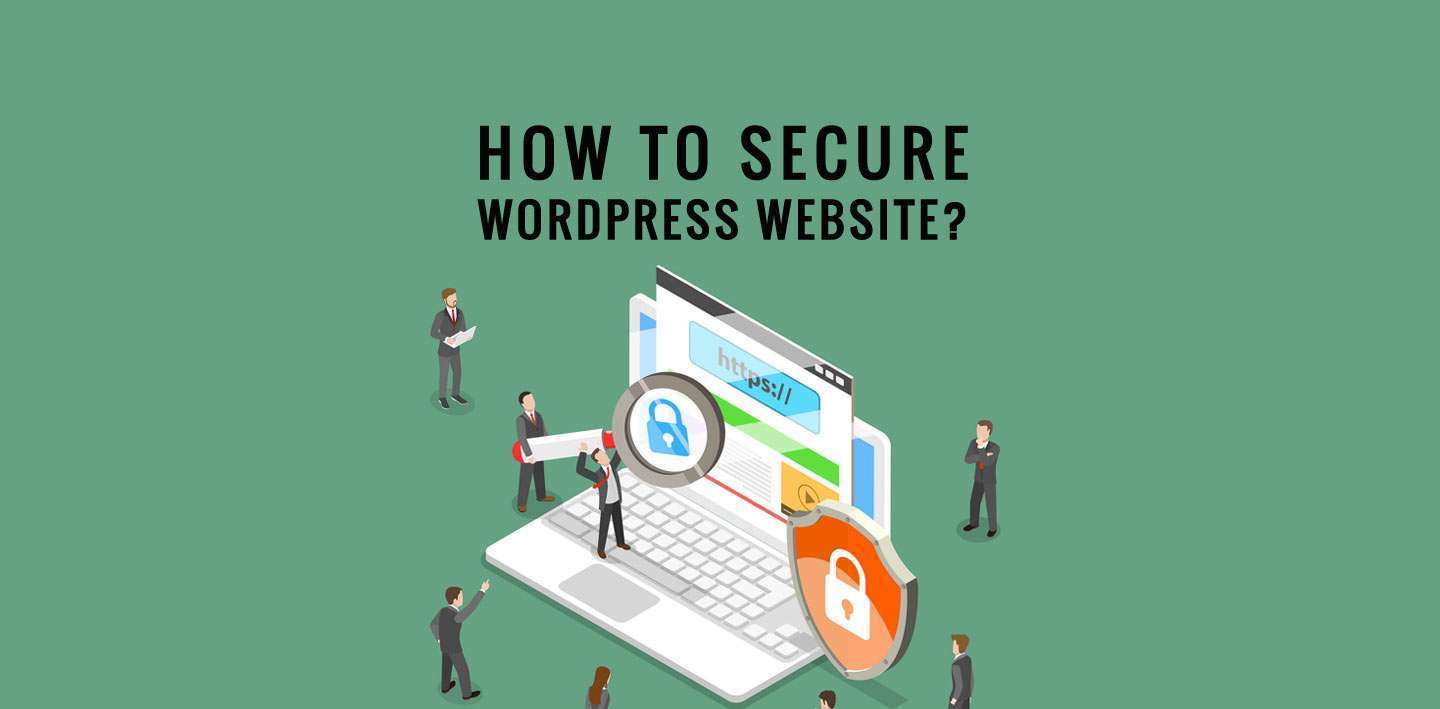 Having a website live on the web denotes your online presence and that makes security to be an important thing to consider. Moreover, if you have a WordPress website, then you must make it secure from hackers.
Hackers most often target WordPress websites since WordPress is one of the most popular Content Management Systems (CMS) available. So, you should devote some of your time and effort to Secure WordPress website's data and also your visitor's information.
The process of securing your WordPress websites is quite simple if you follow the right procedure and steps. Stay tuned to know all the steps that you can follow to tune up perfect security for your WordPress websites.
Tips and Tricks on How to Secure WordPress Websites
For keeping your WordPress Websites Safe and Secure, you should adhere to the best practices. We will be going to discuss some of the Best Tips to Secure WordPress Websites that you can follow.
Here the list of 8 basic Steps and Tips on How to Secure WordPress Websites
Secure Login Process

The procedures for Login should be made as secure as possible. For that, you must follow some of the below tips:
Strong Passwords must be used.
Two-factor authentication must be enabled.
Avoid 'admin' as your account username.
Keep your login attempts to a limit and also enable the auto-logout feature.
You can add a captcha as an extra security layer.
WordPress Should be Always Updated

For any software, keeping the outdated versions installed can be the most common target for hackers. WordPress is not an exception too. Hence, ensure to keep an eye on all the latest Updates and Install them to avoid bugs and other vulnerabilities for keeping secure WordPress website . However, make sure to first back up your website before updating.
Good Hosting Company

There are plenty of hosting companies available but you should do proper screening to figure out the best hosting company that provides multiple layers of security. You may want to go with the cheap hosting plans available but we would recommend you to spend a little bit more on hosting and choose the one that offers a good amount of security to your website.
[affcoups id="5001″]
If you choose quality hosting providers, they will also offer good quality customer support which can help to resolve the issue if any attack occurs.
Secure Themes

Don't just randomly choose a WordPress theme because it looks good. That can widen the chances for your website to get hacked. So, always choose a WordPress theme that complies with all the WordPress standards for secure WordPress website.
For checking this, you can copy the website URL or the URL of that theme's live demo and paste it into the W3C's validator. It will show you whether the theme is compliant or not. You can install any theme from the official WordPress Theme Directory because all of them are safe and secure to use for your website.
Security Plugin Installation

Installing more than one Security plugin for your WordPress website is highly recommended. It's so because these security plugins perform a lot of manual work for you like, it scans the website for infiltration attempts, alters the source files, resets and restores the WordPress sites, and also prevent hotlinking (content theft).
SSL / HTTPS
The connection between your websites and the web browsers used by the visitors should be encrypted to ensure that the traffic between them is secure from Black Hat Hackers. The technology that ensures this thing is known as Secure Socket Layer or SSL.
You must enable SSL for your website because that not only ensures security but also boosts up your SEO and attract more traffic. The websites that have SSL enabled will have the URL starting with 'https://' instead of 'http://.' Hence, it can be easily inferred that "s" stands for secure.
[affcoups id="6181″]
Most good-quality hosting companies offer a free SSL certificate which you can use for one website. If you want to create more websites with the same hosting plan, kindly pay a little extra to enable it.
Regular Backups

Any live website is prone to several kinds of attacks and hacks. Even if that is resolved, all your website information can get lost. So, you need to devote extra time and effort in that case to secure WordPress website. Hence, it is a good idea to take regular backups of your website to prevent data loss.
Choose a Hosting plan that provides automatic backups for your websites.
Firewall

One of the wisest decisions to secure WordPress website is to install a Firewall. Firewalls stay between the hosting network and other networks, thereby preventing unknown traffic incoming from some unknown source. It works as a middle man between networks and hence reduces malicious activity to a greater extent.
You can use a Web Application Firewall or WAF plugin in this case. Some of the best WAF plugins you can use are:
PHP Latest Version
Not only WordPress, but you also need to keep the PHP version updated to secure WordPress website. Once the update is available, there will be a popup on the dashboard from where you can install it. Just head over to your hosting account and upgrade to the latest PHP version.
Security Scans

Routine check-ups of your website are mandatory to keep secure WordPress website . This should be done at least once monthly. You will find a lot of Security Scan Plugins available from where you can choose such as Wordfence, iThemes Security, Defender, All in One WP Security and Firewall, etc.
[affcoups id="5967″]
Frequently Asked Questions (FAQs)
Q1. Why should you Secure your WordPress Websites?
A: We all know that it is important to keep your website secure but most of us ignore the reasons. Let's take a minute and look at the basic reasons for securing your WordPress websites:
Your information and the website's reputation will be protected.
Visitors are more attracted to secure websites.
Google or other search engines give more priority to secure websites.
Q2. What are some of the Security issues faced by WordPress websites?
A: The common Cyberattacks on any WordPress website include –
Cross-site scripting (XSS)
Denial of Service or DOS Attacks
Phishing
Backdoors
Database Injections
Brute-force attempts during login, and
Hotlinking.
[affcoups id="5926″]
Conclusion
Cyber security has become one of the most common things to take care of these days as the world is becoming more and more digital. So, never take your website security on a light note. Most people invest their time and effort in designing websites and creating content by overlooking security.
This should never be done and you must devote some time to ensuring your website's security. We hope that this guide has been quite useful for you. Just follow the basic steps highlighted in this article and get your WordPress website secured to a larger extent.