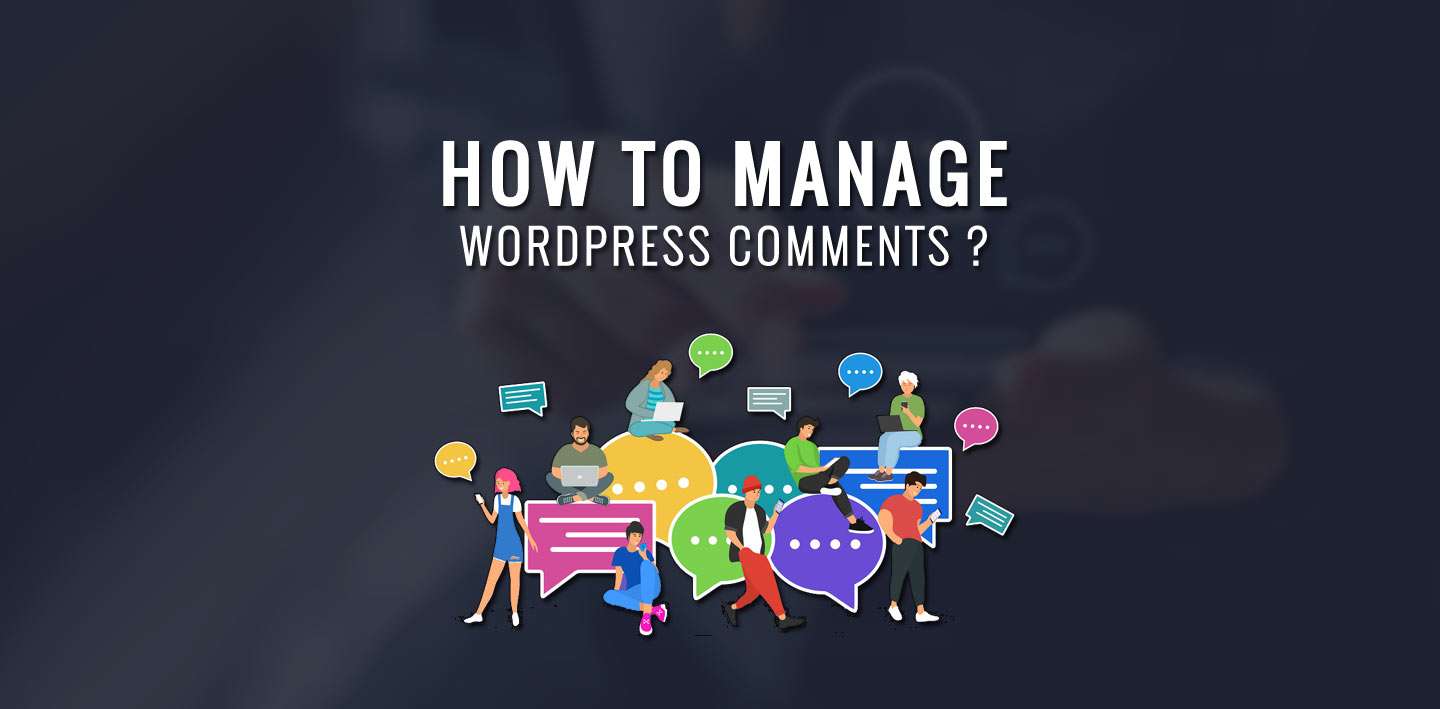 One of the unique features of WordPress is that – equipped with a WordPress Comments section that enables readers to make comments on your pages or posts with you as well as among the readers. The page lets your audience share their opinion and experiences on the helpfulness and quality of the content.
In this tutorial, we are here to discuss How to Manage Comments in WordPress?
Key Content of How to Manage WordPress Comments-
Why do you Manage WordPress Comments
Managing WordPress comments of your readers involve approving/adding, editing, deleting, and also replying to them (wherever you feel necessary). This demonstrates your active involvement with readers and that helps boost the credibility of your 
page
 and also from the viewpoint of your SEO endeavor. You are recommended not to opt for auto-approving because that make your website susceptible to spammers.So, let's get started!To manage comments on your page in 
WordPress
 the most popular and easiest way is using
The WordPress Comments Dashboard Interface.

To view, the comments access the Dashboard and press → Comments. The comment section displays you the list of comments and enables you to switch between different the category of views like – All, Mine, Pending, Approved, Spam, and Trash
In WordPress, you can move elements between the different categories. With built-in Spam plugins aka Akismet, WordPress helps pinpoint the spam and discards most of them before you access the comment section.
Additionally, based on your setting of discussion, the WordPress filter can Mark/Move comments to the category.
[affcoups id="5001″]
What are WordPress Comments
The WordPress comments page enables in your web readers to communicate with you and with other readers as well. They can comment on your articles posted by you, ask questions and get you valued feedback. Anyone with a valid number and mail is allowed to make comments devoid of verifying their ID. By default, the comment remains turned off. Until the comments of visitors are Approved or Deleted by you, they will only get a Preview that the comment is waiting for moderation.
The Discussion settings page is a platform that is fitted with all necessary options while allowing you to manage the comments on your website. To get access to the interface, move to Settings → Discussion.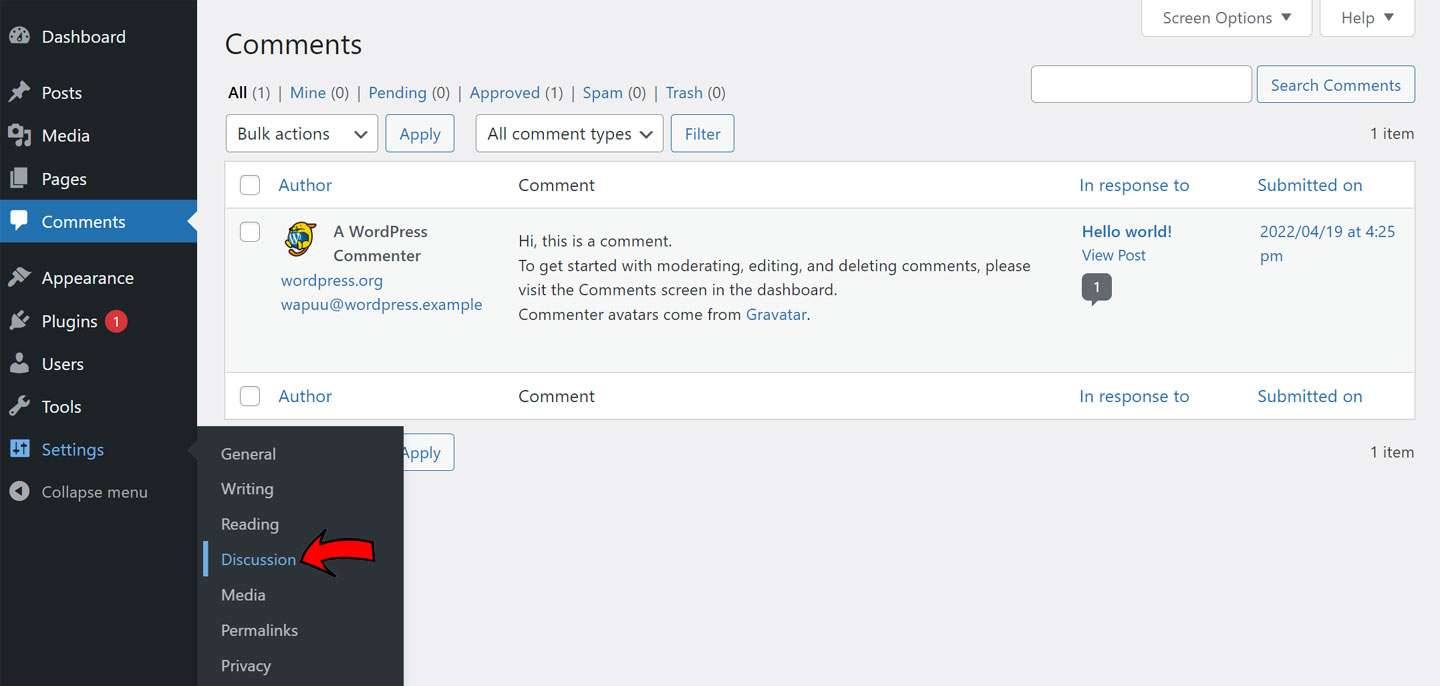 On the page, you will find lots of settings (as listed below) that you can tweak:
Authors are required to fill up Name and Email id – A steady security feature helps you to keep track of the comments that come from genuine authors. Comments must be registered and need to log in for adding comments – Given that spam comes typically from unregistered users, getting them registered and login form helps block spam bots.
In addition, WordPress Comments is fitted with an array of added filter options that remain enabled by default. This becomes helpful for you to Moderate the Discussion Manually as per your decision on your website. This include:

A comment must be Manually Approved– Being kept enabled, it prevents comments from appearing on your website instantly, and only once you approve, they will be displayed.
Commenters must have a Previously Approved Comment– for visitors whose comment has already been approved earlier, won't have to wait for further approval for displaying their message. Nonetheless, they need to use the same email ID.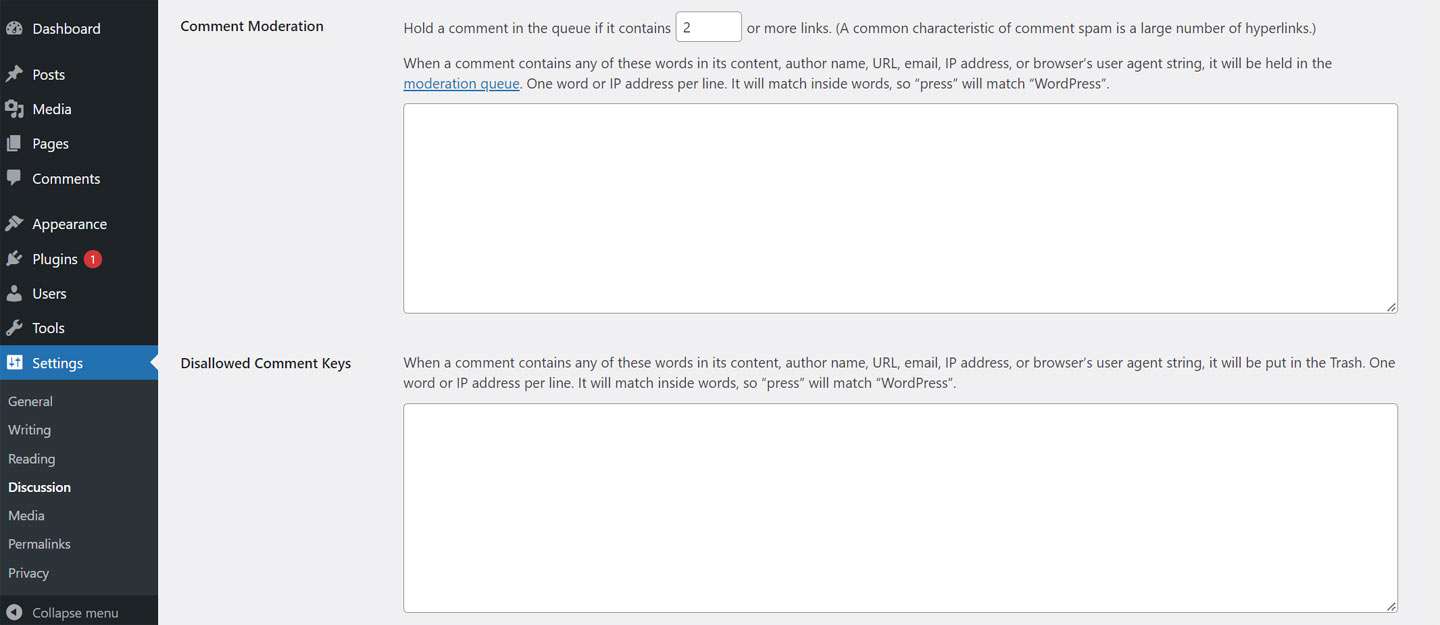 Comment Moderation/Comment Blacklist– These two setting works in conjunction with great harmony. The Moderation setting is prepared to prevent comments comprising of specific words, emails, number of links, IPs from getting published until they are approved by you. Conversely, the Blacklist option helps you move matching notes directly to the Trash.[affcoups id="5377″]
What is meant by WordPress Comment Moderation
WordPress Comment Moderation refers to the action of altering the content of the specific comments with a view either to retain the discussion on the topic or to remove it as Spam from your website. Make sure to have a standard rule to accept/reject such comments. And wherever any comment adheres to pre-set requirements, it will get marked by WordPress for your Manual Approval or Removal.
How to Add Comments in WordPress
Let's start with How to add a Comment to any 
Post
, that is already available. Simply click the link for existing comments, and you will be taken to the post page that enables you to view all of the current comments. On the page, you will find an option '
Leave a reply
' – and this is where you can add your reply as input against the specific post. As you insert the text, make sure to use the '
Post Comment
' button. It is located at the end of the interface and enables you to post your opinion on the comment.

How to Edit Comments in WordPress
Consider that you are logged into the admin area of WordPress. Now to Edit/Delete or Approve a comment you are required to press the comments element on the admin menu. Accordingly, you will be taken to the page displaying all currently existing comments relating to your website presented in a table format.
Edit Comments
To Edit any comment – access the Comments page first where all comments are listed in the table form. Hover over the particular comment you want to edit, and as you press the Edit link, you will be redirected to the editing interface. On accessing the interface, you will view three blocks there to be used for editing your comment.
The 1st block involves the details of the Author and fields include the Name, Email, and URL for editing.
The 2nd block is relating to the comment where you can easily edit using the editing tools that WordPress provides.
Once your editing is done, have a look at the 3rd block which is located on the right part of the interface. Here, you will get an option to View Comment. This set displays the status based on how do you categorize the comment and accordingly 'Update' the same in the edited form as done.
How to Delete Comments in WordPress

To Delete any comment from them, you need to move to the particular comment and press the Trash link. This will transfer the comment to the Trash section. Comments in the trash section can be restored as well as moved to any other group within 30 days and after that, they get lost permanently. However, if you want to delete it permanently- access the Trash section, move over the comment, and press Delete Permanently button.
How to Approve Comments in WordPress

For Approval for any comment, – access the Comments page showing all comments that are listed. Go to the Pending comments and move to the particular comment. Click on the Approve link, (to be found next to the comment) the comment will get approved instantly and will be viewed at the bottom of your page.[affcoups id="4850″]
Important:
Manual Comment Moderation
Even if Akismet is an effective tool to identify spam and also move them to trash, however, sometimes due to any sort of mistake by it, you may need to moderate the WordPress comment manually, then moderate such comments. If so, for Manual Moderation you need to go move to Settings > Discussion. Now as you find that the comment is caught by Akismet as spam, all you have to do is simply click on 'Not Spam' link and it will move from Spam to Pending. Accordingly from the pending list, you can add the comment or edit it as per necessity.
Conclusion
So, in this tutorial session, you have learned everything pertaining to WordPress Comments, their significance in SEO, and How to Moderate (add, edit, delete or approve comments) apart from Manual Comment Moderation. We hope, this will be helpful for you to Manage WordPress Comments successfully.