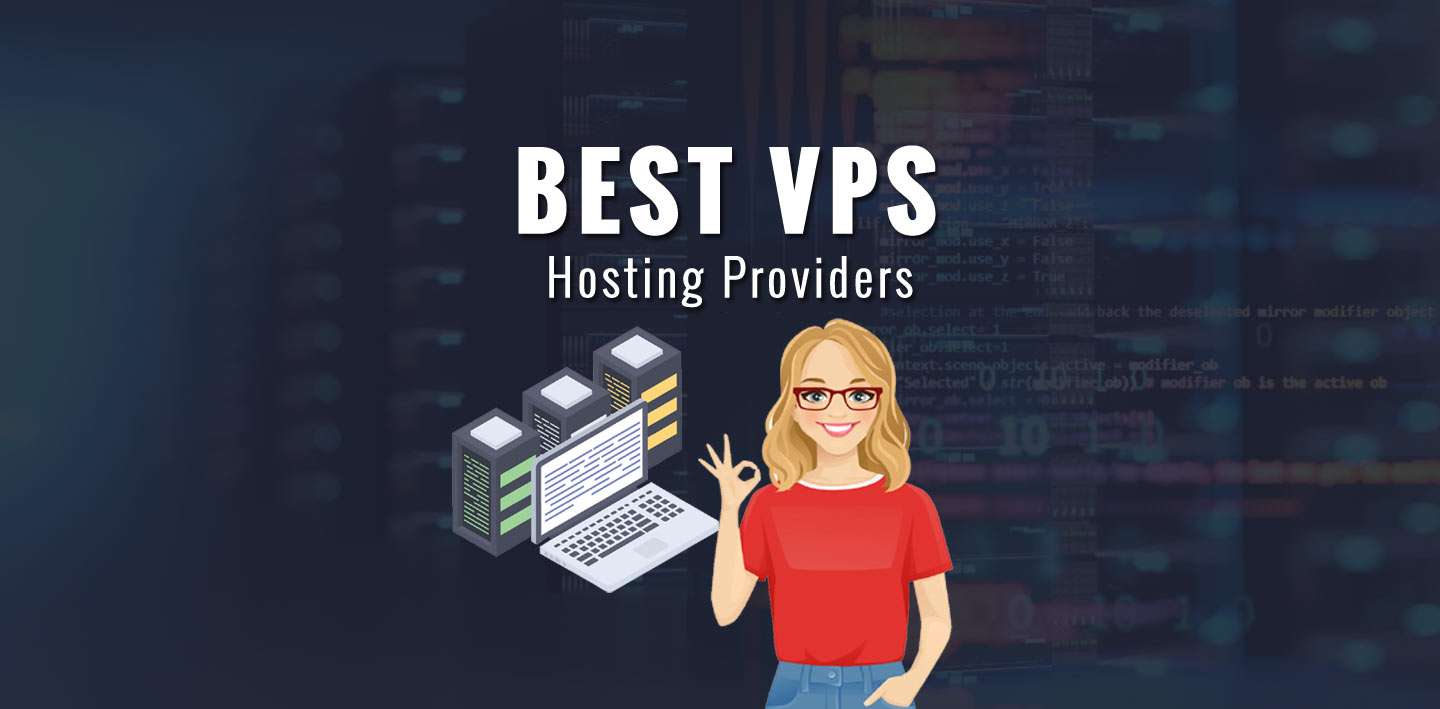 VPS acronym for Virtual Private Server is, in essence, the middle track amid the dedicated and shared servers. Unlike any Shared hosting plan, whereas hundreds of website owners share a specific server for their web presence, with VPS, your business enjoys independence from other users.
While a Shared service is a great option for you as a beginner, as you grow and get higher traffic if your website becomes slow since it's sharing the same server it can lead to increased bounce rate, loss of ranking, and less conversion. To avoid this frustrating experience, considering to choose best VPS Hosting services. Apart from having superior performance, greater uptime, unequalled flexibility with fantastic affordability, the VPS facility makes your entire business operation more relaxing than ever.
Although the advantages of VPS may sound electrifying, it could be only practical if you choose the best VPS hosting provider. Correct! Considering your need, we are here to explain to you the detailed reviews of the 5 Best VPS Hosting Service  Providers.
List of Best VPS Hosting Providers
Here we provide a list of the 5 Best VPS (Virtual Private Server) Hosting Providers based on our experience:
Established in 1996, Bluehost has now been the home of over 2 million websites. It's specially acknowledged for its beginner-friendly VPS hosting service provider, great security features backed by dedicated customer services. Recommended by WordPress.Org, all of its servers deliver optimized speed while its services come with a Site Migration facility, Free SSL certification, and unlimited Disk Space.
While Bluehost is globally acknowledged for its beginner-friendly hosting services and has always offered great plans suiting to all ranges of users, its VPS plan is no different. With four VPS plans for its valued customers – it helps its users enjoy scalability of hosting plans as per their business needs. While the Standard plan offers you 2 CPU cores of 2x Xeon Gold-5220), 2GB RAM, 30GB SSD, 1 TB bandwidth apart from IP address, the premium plan 'Ultimate', is fitted with 4 CPU cores of 2x Xeon Gold- 5222), 8GB RAM, 120GB SSD storage, 3 TB bandwidth along with two IP addresses.
[affcoups id="5381″]
All plans are available with a free SSL certificate, free Domain, unlimited Sub-domains along email accounts, in addition to cPanel for your customer services. For added Domain privacy and security, you can opt for the 'SiteLock' tool that comes as optional add-ons which means – you need to pay extra for it. With a well-trained and professional help desk – the support of Bluehost is accessible 24/7 all year round. As analyzed by our team, among VPS hosting providers, Bluehost takes the topper position. With across-the-board hosting, Bluehost is the ideal resort for newbies to SMBs and corporate businesses.
Being headquartered in Lithuania, Hostinger is a globally distinguished hosting service platform and serving millions of customers since 2004. Among the various hosting services – its VPS hosting helps you create, maintain and secure your websites in the most simplified way. Regardless of, what your business volume is if looking for dependable VPS hosting services in a budget-friendly way, Hostinger is your destination.

Hostinger is indeed a great choice for businesses on the lookout for the most affordable plans with great hosting services. To get started, you need to pay merely a few dollars that come with a rise on renewal while its shorter subscriptions let you go for much high price plans within your means. What makes Hostinger unique is that without needing you to pay extra, it offers robust security with network redundancy.
[affcoups id="6173″]
Although the cheapest plans come with limited storage, RAM, and bandwidth, however, that is sufficient enough to launch beginner websites and furthermore, as the plans are easy to scale- users can go for more enriched plans once they start growing. Its resourceful VPS control panel helps users to customize their virtual servers in the simplest way. Apart from having full root access, you can install new scripts, reboot, or get back up supported by its cPanel. With globally spread support centers, Hostinger support is available 24 /7 including live chat advantage.
With a whopping 250,000 satisfied customers and data centers located in Washington DC and Los Angeles, InMotion has gained a large footprint in the hosting service industry. Packed with feature-oriented VPS hosting, InMotion is prepared to support individuals to small and medium to large businesses with caring VPS hosting services. It offers flexibility in prices with a robust support team.

With an exciting baseline VPS plan comes with a special 6-month package price and robust hosting specification- InMotion hosting can be truly a mind-blowing option for any business. The package of 45GB SSD Storage, 2GB RAM with a huge 4TB bandwidth, and 1 dedicated IP can definitely beat some of the prominent high-end plans that come from other hosting providers.
[affcoups id="6078″]
Additionally, you will be getting a cPanel license-free with an extended 90-day money-back guarantee. Its latest versions come with dedicated 2 CPU cores to 14 CPU cores with all their VPS plans. Its welcome bonus is featured with Launch Assist helps you avail of 2-hours of free-time assistance from the server administrator of InMotion. So regardless of you like to configure cPanel, alter domain settings, or need any special support for your custom business need, the team is geared up to get the job done. Thus, if you are on the lookout for a package that comes with money-making offers with no hidden catches, trying InMotion could be a great bargain.
Known for its reliability, HostGator is a community that confidently supports website owners with its enriched Shared, VPS, and Dedicated hosting services. When it comes to HostGator's VPS hosting service, it's not only highly rated for its next-generation hosting plans but also great customer care. Supported with the giant hosting Endurance International Group, HostGator means an ultimate solution.

With it comes to Hostgator's VPS hosting services, it offers three plans while its beginner plan Snappy 2000 is equipped with 2 cores of CPU, 2GB RAM, together with 120GB of disk space. The upgraded plans include Snappy 4000 comes with an enhanced 4GB RAM and 165GB storage while for demanding websites, you can go for Snappy 8000.
[affcoups id="6516″]
With the premium plan, you can avail of 4 cores CPU, 8GB RAM, and 240GB storage. Depending on the price front, you can either go for a monthly or annual plan keeping in mind that a 3-year contract with InMotion can get you a fabulous discounted offer. Added benefits include free Migration even with the 1st month after signing up. InMotion is also prepared with a 45-day money-back guarantee which is indeed a good choice to try it.
A2 Hosting has been well-known as one of the fastest web hosting providers on the market today. The community delivers an impressive variety of hosting services, at competitive prices and backed by an uptime guarantee. This applies to VPS hosting too.

With its 20 times faster turbo servers, A2 Hosting is known for its fastest speed in hosting service that contributes greatly to boosting SEO ranking and count increased conversion rate. Apart from the Turbo VPS hosting plan, A2 is fitted with 3 plans and added to it- its VPS services come with managed and unmanaged Linux VPS service options. Owing to the resourceful developer features and highly advanced tools that come with its unmanaged services, A2 earns a distinct position in the market.
[affcoups id="6165″]
As you can have full root access and command-line interface management abilities, with unmanaged services, you don't have any problem for configure your server as per your custom need. Added to this, each A2 server is fitted with a 10GBPS redundancy network, you get fantastic performance and speed. The community enables you to install and organize software as per their necessity. Explore the locations of its data centers spread globally locations to get started with A2 VPS hosting options.
To conclude, hiring a dependable VPS hosting provider whose service helps your business avoid the unwanted hassles of configuring a server, acquiring complex technical information, or forming your most wanted cloud infrastructure. We conclude this review by saying that you are the final decision maker. So, be practical and make a great VPS bargain for your ultimate business success.