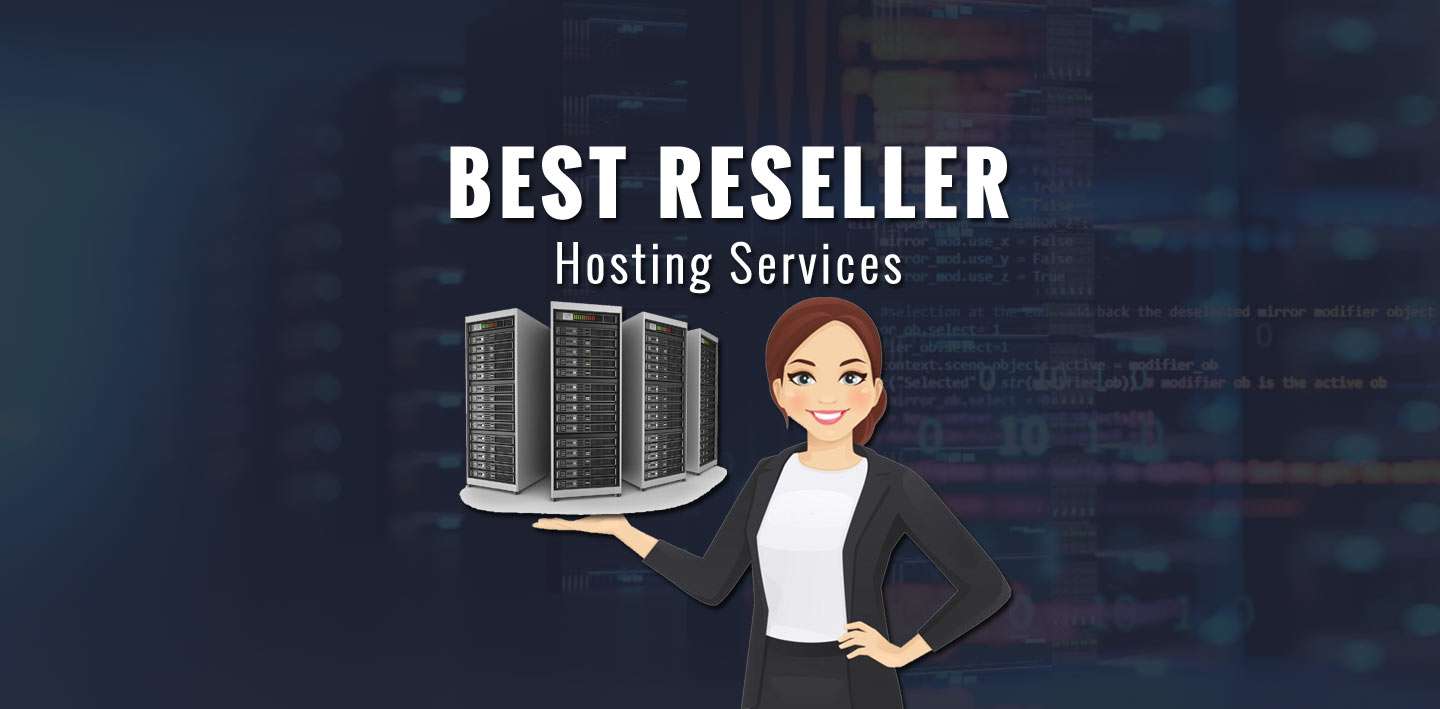 Being a web designer, developer, or small business agency, have you ever thought of the opportunity to initiate a web hosting business as a lucrative source of income? Nothing to worry about the huge capital or infrastructure it requires to get started. No kidding! It is possible.
Think of about the best Reseller Hosting services. For this, all you have to do is buy web hosting services and then resell the server spaces incorporated with all features of the provider to your customers. And, you can make it without having to spend enough money for developing needed infrastructure, support, or maintenance, etc.
All these tasks will be handled by the parent hosting company behind the scenes. Most importantly, no one will know that you are reselling because; you can sell your hosting services in your own brand name. Sounds great! Well, but before you kick-start, the selection of a high-quality service provider is the basics to make your business thrive. So, how to advance… Well, for your assistance we focus on the Top 5 Best Reseller Hosting Services for your consideration:
List of Best Reseller Hosting Services
Here the list of the 5 Best Reseller Hosting Service Providers on the basis of our research:
When it comes to popularity, unarguably Bluehost has earned adequate recognition and trust of more than 200,000 clients and resellers associated with the notable hosting service provider. Empowered by Reseller Club, Bluehost is equipped out-and-out with mind-blowing Shared, VPS, Optimized, and Dedicated hosting solutions for a reseller to start with hosting services. As per the review, the 'WordPress' recommended hosting provider takes the topper position as Reseller Hosting Provider.

To leverage the target market of beginners, startups, and SMBS its reseller packed is designed to empower Linux web hosting. With reseller packages consisting of Essential, Advanced, Pro, and Ultimate, the community lets you start and earn the best value of your investment as you increase your number of customers and land to a higher plan. Each reseller plan of Bluehost has been intended to support unlimited websites, free SSL Certificate, free WHMCS, free Google Workspace, unlimited Email apart from free cPanel to generate, amend custom hosting services, upgrade/downgrade, and manage your clients' accounts without any hassle. Operational with a highly skilled technical team, the company offers on-call and live 24×7 support to your valued customers and resolves issues instantly. Any time, it feels unsatisfactory; you can get 30 days full money-back offer. With high performing CDN, it offers absolute web security from all possible attacks and malicious attacks apart from providing all its special advantages including boosting page loading speed, reducing bandwidth consumption cost.
[affcoups id="8546″]
SiteGround is among the handful of hosting groups offering location-centric hosting services fitted with 6 data centers in the USA, Europe, Australia, and Asia. It has been well-liked for its high-class customer support and fast loading speeds. Officially recommended by WordPress its Reseller Hosting plans enables you to support and satisfy your clients with SiteGround's feature full hosting services.

For web developers and agencies managing numerous websites, SiteGround has been outfitted with fantastic hosting plans for resellers. All 3 reseller packages are designed to support unlimited domains and come with free WP installation, a centralized Dashboard, free SSLs, Auto-updates, daily/ on-demand Backup facility, CDN, Email services plus unlimited databases. Unlike the typical cPanel/WHM stack, with SiteGround you will have access to its proprietary Site Tools solution for management of your web hosting services and client interactions. While you can kick-start with its GrowBig plan affordably, by upgrading to the GoGreek plan you can avail priority support from the community. Similarly, Cloud Reselling plan enables you to get customizable client access in addition to the ability to modify site resources. With the higher number of clients choosing cloud servers should be the right choice. The community offers a 99% uptime guarantee, free Migration, easy WordPress Installation, 24/7 Support dedicated help desk team.
[affcoups id="6004″]
Acknowledged globally for being an eco-friendly hosting service, the specialty of GreenGeeks are its faster loading speeds, 24/7 US-based solid technical support, and scalability for services. Powering over 600,000 websites its Reseller plan comes with unlimited disk space, an automated routine backpack, and free bandwidth. Joining the community as a Reseller Could be a steady choice.

The specialty that makes GreenGeeks reseller plans well-liked to budding web designers' lies in its thoughtfully designed packages – enabling them to invest in smaller packages of 10 clients. This means, based on the number of clients you have, it facilitates you to leverage the cost-effectiveness of your services. Whereas your client number falls anywhere amid these ranks, you have to go for the next bundle. The reseller plans come in the form of 10/20/30/40 and 50. By choosing any reseller plan of GreenGeeks, you can avail of great benefits including unlimited Web Space, Bandwidth, E-commerce Tools and facilities, WHMCS licenses, white label services in addition to Free CDN integration with 24/7 decimated technical support. As it has made its reseller service packages keeping in mind the needs of web developers, by joining GreenGeeks, you can avail several PHP versions, FTP account, MySQL databases, support from Python and Perl. You can also gain access to the newest tools for developers such as WP-CLI, Drush, Git, Drush among others. Finally available with a 30-day money-back guarantee, working with GreenGreek is likely to be a great bargain for new developers.
[affcoups id="6721″]
InMotion has been a favorite brand for its dependable performance with a 99.9% uptime guarantee and award-winning technical support. Its WordPress Hosting has been optimized for promising bloggers to enjoy scalability as they grow. Its reseller program is fairly worthy considering it to grow with it being a Reseller of the community.

One of the tempting aspects of InMotion Reseller Hosting services is its versatility of plans. It has 6 plans for Resellers enabling you to choose the most suitable plan depending on your volume of customers and business needs. Features including Disk Space, Dedicated IPs, and monthly Bandwidth multiply according to the plan. If you have a large amount of customer base, its VPS plan is ready to serve you with huge 260 GB disk space along with 6 TB of bandwidth/ month which is fairly enough to offer satisfactory client services. With a VPS Reseller plan, not only can you manage e-commerce client sites but also bring changes to your server. Aside from offering free Billing software, free SSD drives for making your site load up 20 times faster, with Free WHM and cPanel – every package of InMotion comes with malware/hack protection software, DDoS, and server management features. The community offers a long 90-day Money-back guarantee, free Migration, and unlimited Bandwidth.
[affcoups id="6074″]
Operational since 2002 with over 10 million domains HostGator is known as among popular WordPress hosting providers worldwide. To get started as a Reseller hosting service, choosing HostGator can be a steady choice. Its innovative cPanel for resellers has been designed to scalability with the client's hardware requirements.

Equipped with 5 different reseller plans including Aluminum, Copper, Silver, Gold, and Diamond with varying disk space and bandwidth, choosing HostGator happens to be a money-making host reselling venture for you. The plans come with promo offers while you can lock any introductory plan for the first 36 months which is sufficient to take your business to the next level. Every reseller plan comes with benefits including unlimited websites, a Free SSL certificate, FTP and MySQL accounts, Email facility. While choosing any plan, make sure to verify the disk storage and bandwidth as per your current need and enjoy scalability as your business increases. With all reseller plans, you will be getting free WHMCS software for billing to deal with your clients. HostGator offers a 99.9% uptime guarantee, 80% off toward migration, and 45 days money-back guarantee. With a well-trained technically sound team, the community offers 24/7 client services over the phone and live chat as well as server monitoring and auto backup.
[affcoups id="6518″]
Conclusion
Reseller Hosting Services are taking off like anything due to their plenty of benefits and earning potential. Imagine that with Best Reseller Hosting you can make a portfolio as a hosting service provider as you introduce your hosting services in your own brand. Research well about the popular hosting companies for Resellers as stated above and choose one that supports you best to take your business off the ground.