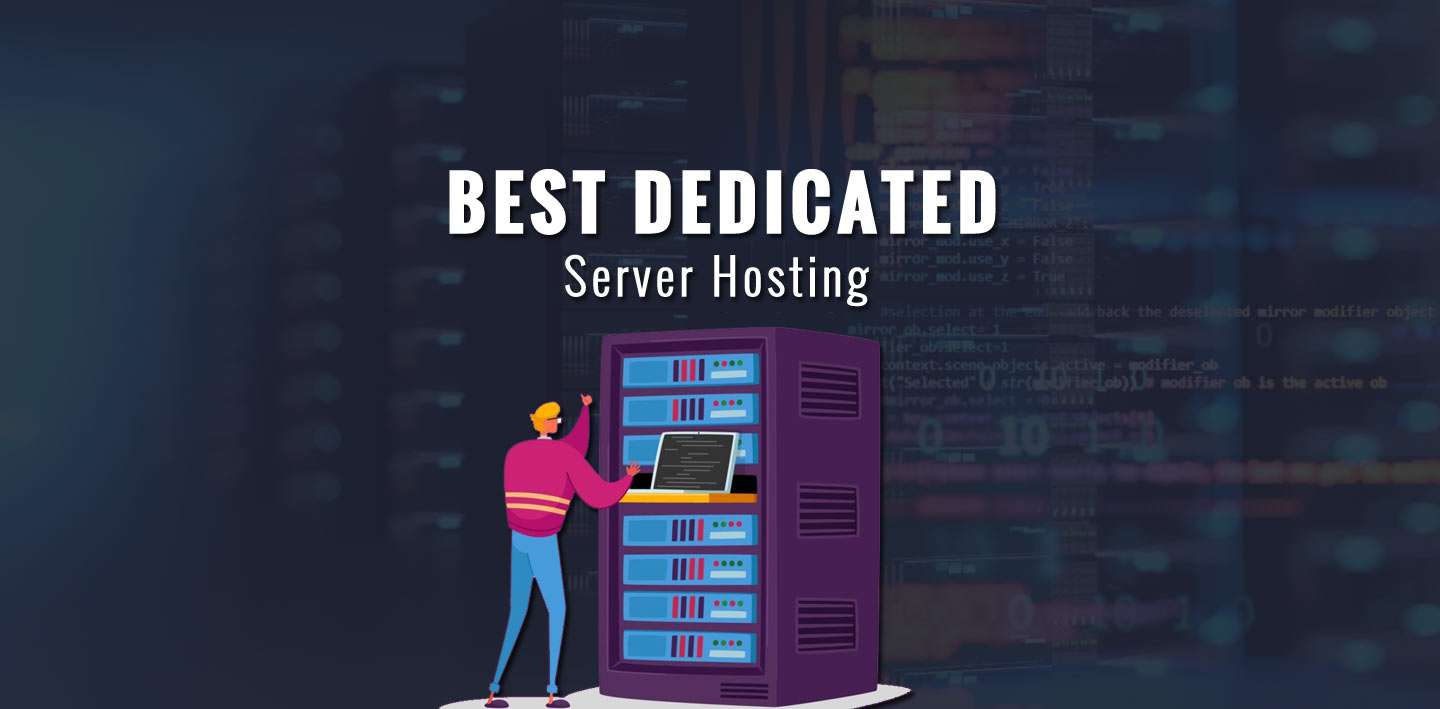 A Dedicated Server means an ultimate solution when it comes to your website performance, security, and control. With a Dedicated Server hosting, you become the owner of a server for your business and need no more sharing of bandwidth, RAM, or CPU time.
Contextually, shared hosting may seem to be value-added to meet almost all your business needs seamlessly just by paying a few bucks especially when you are in the beginner phase, a small or medium company. However, as you grow with your website and handle more and more traffic, if you experience virtually struggling to maintain, serve and satisfy your value audience, it's high time to get a transition to a Dedicated Server.
Dedicated Server Hosting means that you enjoy more control over your server, add, remove, install software, as well update or change settings. This enables you to optimize the performance of your server as your business deserves while having top-class technical support from the provider. However, to optimize your ROI, choosing the best Dedicated Hosting Provider matters to you considerably. In this article, we focus on 5 of the most popular Dedicated Server Hosting Providers, and hopefully, by studying them, you can find your best choice.
List of Best Dedicated Server Hosting Providers
Based on our research here goes the list of 5 Best Dedicated Server Hosting Providers:
If you're on the lookout for a dedicated server hosting plan that comes with performance, cost-effectiveness, and comprehensiveness of services, Bluehost should be your first choice. Founded in 1996, Bluehost has undeniably become one of the top brands in the hosting industry. While the official 'WordPress' recommended provider is rated No.1 for beginners and small businesses, its dedicated hosting is equally unrivalled.

Ranked No.1 by us, fitted with 3 plans -Standard (500 GB storage, 4 GB RAM. 5 TB bandwidth with 3 IP addresses), Enhanced Plan (1 TB SSD storage, 8 GB of RAM, 10 TB bandwidth, with 4 IP addresses), Premium plan (1.5 TB SSD storage, 16 GB RAM, 15 TB bandwidth with 5 IP addresses), Bluehost helps you fetch the highest value of your ROI. While the Standard plan is fairly enough for most businesses to become the owner of a dedicated server and enjoy amazing services, as per the need of your business resources, you can upgrade the package that comes with more storage capacity, power, and speed.
[affcoups id="5379″]
For instance, the Premium plan comes with more feature-backed services that make your website perform at its peak point is worth investing in the class of services you avail. All Dedicated Hosting plans from Bluehost are available with a free SSL certificate, free Domain (1 year), and 24/7 committed Customer Support with a well-versed technical wing. With Bluehost, you can also get root access to make your website customized and captivating to your target audience. All offers come with a 30-day Money-back guarantee.
With a whopping 10 million + domains, HostGator boasts of being one of the most demanding hosting companies in the global industry. With 1-click WordPress installation, budget-friendly prices, 99.9% uptime, and 24/7 instant support, it is undeniably a smart option for website owners. So, while opting for a dedicated server to make your business boom – HostGator is likely to be a steady choice.

The Dedicated Server plan of HostGator is one that ensures absolute reliability, mind-blowing prices, exceptional uptime, and dedicated customer support. Fitted with Value, Power, and Enterprise server plans with specs of 4 CPU cores/8GB RAM/1TB HDD; 8 CPU cores/16GB RAM/2TB HDD or 512GB SDD; 16 CPU cores/32GB RAM/1TB SDD, respectively each pack gets you the storage, speed, and scalability at your finger-tip.
[affcoups id="6514″]
What makes the provider unique in the industry is that all its Dedicated plans come with unmetered bandwidth that maximizes your capacity to transmit data over the internet. Again, if you compare its packages from the price front than possibility you can get an insight into what makes it outstanding. Depending on whether your business needs Linux or Windows support, HostGator is prepared to support you along with cPanel/WHM on Linux or Plesk/ Webmatrix on Windows to control your server. You can get full or semi-managed services with 24/7/365 support.
DreamHost has been operational in the industry for nearly 18 years and is known for its Linux-powered hosting service. Powering more than 1.5 million website owners, it's growing at a steady pace to make your web hosting experience relaxing. Apart from offering feature-oriented WordPress, Shared, VPS, Cloud, its Dedicated Hosting has been highly popularized in the business world for its resourceful hosting package.

DreamHost offers fully managed dedicated hosting options as Standard and Enhanced. While the standard is packed with 4GB RAM and 1TB storage, the Enhanced plan comes with 16 GB RAM, 2 TB storage. To offer its customers the highest performance, all its hosting options come packed with both HDD and SSD hard drives for the fast loading and speed of your site.
[affcoups id="6102″]
With the resourceful and power-packed cPanel of Dreamhost, you can have full root access to maximize control, reboot your server as per necessity, and control all domains, email, and websites that you own. 24×7 expert support with DDoS protection is also there.
Globally acknowledged for its reliability for business class hosting, InMotion has come out to be an industry-leading brand for business class hosting. It offers greater scalability even in dedicated hosting services similar to all other hosting plans. It provides a 99% uptime guarantee with an award-winning technical support team.

The Dedicated Server of InMotion Hosting comes with a series of hosting options with a division between Managed and Unmanaged hosting ranges. All servers are available with SSD storage and a smart routing mechanism for faster load times that guarantees 99.99% uptime. With a budget-friendly package plan, its Managed Server delivers power-packed hardware specs including an Intel Xeon processor, 16GB RAM, 1TB SSD, and 15TB of data transmission capacity. All servers are available with multi-layers security protection while rebootless upgrades are provided as per necessity.
[affcoups id="6080″]
The community offers you WHM/CPanel facility for easier backend support and control. The Bare metal server option comes with equivalent specifications to managed ones but is available at a fairly cheaper rate. Well, like managed servers, with bare metal, you can equally configure your own server as per your necessity. Advantageously, its wide variety of managed server configurations enables you to make a choice that suits you best with the advantage of upgrading plans as you grow. Customer support is indeed great with a learned support team and is available through live chat, phone, and email services 24/7.
Embarked on its journey in 1997, Liquid Web has become a well-popular provider, especially for high-end business hosting solutions for Managed Shared Hosting, VPS hosting, Cloud hosting, and obviously dedicated server hosting. All hosting plans of Liquid Web are seamlessly tuned for speed, security, and performance to get you the best value, while the biggest thing that makes the community one of a kind is its master class services.

At the first glance, the fully Managed Dedicated Server plans of Liquid web may seem expensive, however, considering the package specs they offer can replace many of its rivals. Even its cheapest Dedicated Server comes as an introductory offer includes 2 high-speed 240GB SSD drives, 16 GB RAM, 5 TB Bandwidth for example. It is also packed with a 1TB SATA backup drive that makes it easier to get regular backups. The plan also includes 250 GB Acronis Cyber Backups for seamless protection of your business data.
[affcoups id="6044″]
The backup of Cloudflare CDN will boost your site's speeds while you can opt for any of its data centers located in Arizona, Michigan, and the Netherlands considering their nearness. Most temptingly, all Dedicated Servers of Liquid Web come with expert team support. Apart from regular system health check-ups, installing, and updating of the OS – its dedicated support team is available 24/7/365 for your assistance. Added to this, the community guarantees to respond within 59 seconds via phone or chat and 30 minutes via email and ticket. Add-on features include firewalls, VPN, load balancers which is quite enough for almost all business types.
In this highly competitive digital marketing era, you simply cannot compromise in terms of your website performance, security, speed, and control. So, when looking for an Ultimate solution, opting for a Dedicated Server Hosting is a must-have for your business.