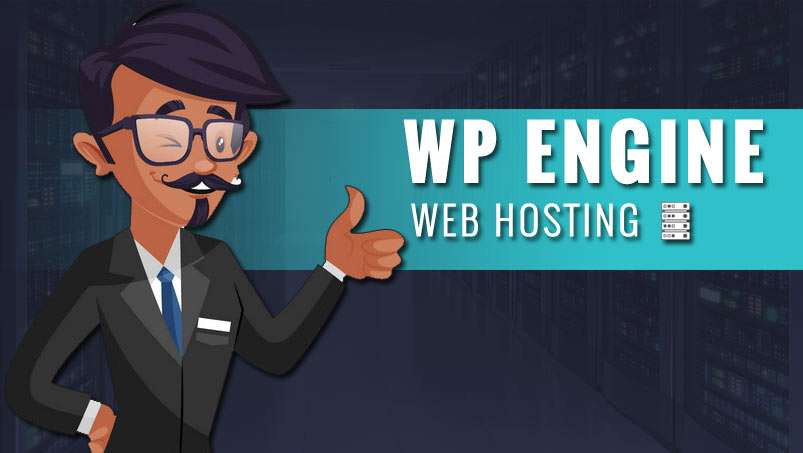 WP Engine Deals & Coupons
As we all know, for most of the websites over the Internet, WordPress is the backbone of them, and considering that, there are many web hosting companies that focus on WordPress hosting mainly. WP Engine hosting is also one of them.
Thus, WP Engine hosting is only for those who want to build their websites or blogs using WordPress and want to get the most out of them. Unlike the regular hosting plans, managed WordPress hosting focuses mainly on the plugin management and performance of the WordPress websites so that there is no need for you to worry about that.
Yes, it is a fact that there are a lot of hosting companies offering managed WordPress hosting but WP Engine hosting stands out to be one of the best among its competitors. We will have a detailed description of WP Engine Hosting Review throughout this guide, so stay tuned!
Brief Overview
Before going into the details, let me give you a summary of the WP Engine Hosting. WP Engine hosting is a high-quality managed WordPress hosting provider and there is no wrong thing to select it among others. It isn't the best-in-class hosting provider but the customers are overall happy and satisfied with its services.
As per our research, WP Engine can be given a score of around 80 out of 100 in the terms of its customers. The customer support or WordPress-specific support is better enough to choose WP Engine hosting. It also provides tighter-than-usual features related to WordPress websites.
WP hosting provider has been founded in 2010 and it is not the first company to offer managed WordPress hosting but it is now one of the biggest. It now serves as the residence of more than 1.2 million websites across 150 countries.
WP Engine is known to offer a high-performance hosting environment that is specially optimized for WordPress websites. Besides, it also helps in managing the other factors required to maintain and run a stable WordPress website. So, all these features are enough to categorize this WP Engine hosting as an ideal choice for anyone.
This hosting company provides a wide variety of choices for the server locations across the data centers like the US, Canada, Asia, Europe, and Australia through the Google Cloud platform's partnership. You can also enjoy free access from MaxCDN that comes included with all the plans.
Now the common doubt that can arise in your mind is "Why should I consider WP Engine Hosting and not the others?" Let me tell you some of the salient features of this hosting:
Page speed or performance

This is the first hosting that comes integrated with a web page speed performance tool so that the users can easily increase the speed which is an important part of enhanced SEO.

Response time

Coming to the website response time hosted on WP Engine hosting, there will be a significant increase in the page loading time as compared to some other popular hosting providers. On average, the page load time is only 338ms.

Security

Nowadays, having an HTTPS website is also a point to increase your SEO and rank the website among the top search results. WP Engine offers a free-of-cost SSL certificate with a hosting subscription. Moreover, there are offers of daily malware scans and a firewall.

Uptime

This is a major factor you must ensure to check before taking up the hosting subscription. As per our conducted test for two weeks which provided a stable result with not a single day downtime of the website. Thus, it can be considered a solid host.

Support

While taking up a hosting provider, customer support is also one of the major things that you need to check. Customer support is available 24/7 and hence you will get your issues or queries cleared anytime during the day or night. There is also phone-call support for some plans though the startup plans do not support that.

Money-back guarantee

WP Engine hosting provider offers a 60-day money-back guarantee policy that is enough to test the genuineness of the services it provides. If you are not satisfied with the service, then you can ask for a refund even after using it for 2 months.

Customer experience

With WP Engine, the creation of a new WordPress website is very easy and smooth because you can create it just by the click of some buttons. You will get access to 35+ premium themes from StudioPress and all you need to do is to download the theme and upload it through the WP dashboard. The management of the websites is also easy since all the WordPress installations support an auto-enable mandatory configuration plugin from where you can clear the website cache and build up a staging site.
These are some of the features that made WP Engine so popular among many hosting providers.
WP Engine Products/Services
The services offered by WP Engine are mainly centered on the managed WordPress hosting.
Managed Hosting
There are four main managed hosting plans, namely startup, professional, growth, and scale that differ in the number of sites that can be hosted, amount of traffic, local storage, and bandwidth. All the plans will be provided with free migrations, daily backups, staging, and a free SSL certificate.
[affcoups id="5967″]
Managed Hosting Plus
This service provides you the capability to update all the site plugins safely and automatically. It also has four plans that differ with the same respect as the ones in managed hosting service. Along with similar services, you will also get automatic plugin updates tested with AI and auto-rollbacks in case of issues.
Secure Hosting
In this hosting service, you will experience all the benefits of managed hosting plus an additional security layer perfect for eCommerce sites. The features include DDoS protection, security firewall, and other similar features as offered by the Managed Hosting Plus.
eCommerce Hosting
You can opt for this type of hosting service that includes everything required to run a WooCommerce store. The special features include one-click store creation, WooCommerce template, store themes, and Instant Store Search (not for the Startup plan).
Pros of WP Engine hosting:
The uptime provided is great.
Customer support is available 24/7/365.
Staging area creation is very useful.
Daily backups service is provided with all the plans.
Threat detection in real-time is available.
Cons of WP Engine hosting:
No domain registrar service available.
Emails are not provided with any plan.
Startup plan customers will not have the flexibility for phone call support.
We had a detailed discussion on WP Engine hosting reviews 2021 with the features, advantages, and disadvantages, services offered, etc. Hope you have found it useful and helpful too. The features mentioned in this article are the main reasons for this hosting provider to gain so much popularity.
Thus, if you are planning to take up a managed WordPress host, then this can very well suit among the top 10 on your shortlist. Though certain flaws refrain it from becoming the topper, still it can be a solid choice for your WordPress websites.