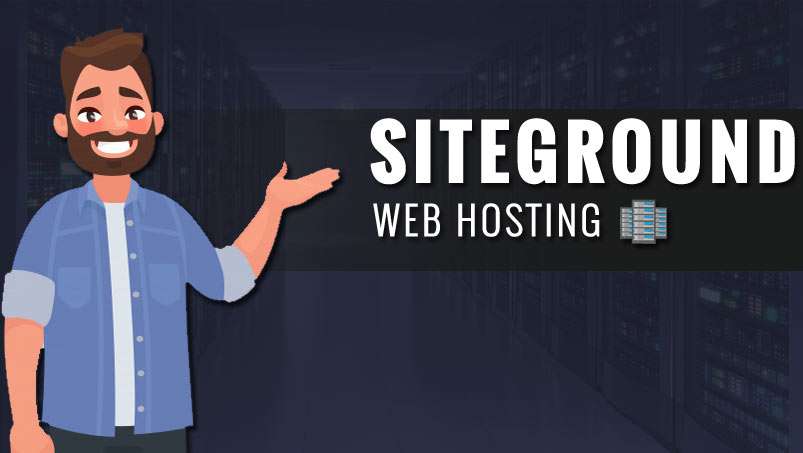 SiteGround Deals & Coupons
Are you searching for the best web hosting provider for your website? Yes, it is boring to search for hosting companies but you should not take it on a light note because the services provided by the hosting company can impact your website's popularity to a greater extent since it will be the foundation of your site.
Siteground hosting is one of the best and highly secure web hosting platforms easily designed for optimal website management. It also provides world-class performance and excellent customer support. Thus, Siteground has gained immense popularity among the website owners to mark their online presence with this next-level hosting.
As Siteground is a feature-rich hosting provider, it has been officially recommended by WordPress.org. Thus, once you subscribe to any of the hosting plans of Siteground, you will be less stressed, more productive, and happier with the plenty of benefits offered as can be easily traced out with 98% customer satisfaction.
Brief Overview
If you do not want to get into the details, then take a look at the below points to get an idea about the reliability of Siteground hosting:
The page speed offered by this hosting is nearly 700ms as tested by our experts.
The uptime is 99.99%.
Customer support is one of the highest-rated with fast responses, and multiple skills through Live Chat, Phone calls.
The features like unmetered bandwidth, storage, website builder, free SSL, free email, free CDN, daily backups make this hosting provider so famous.
The hosting services offered include Shared web hosting, WordPress hosting, WooCommerce Hosting, and Cloud Hosting.
As per our verdict, Siteground fetches a score of 5 out of 5.
Founded in 2004, Siteground, a Bulgarian company has emerged as one of the best website hosting providers with currently more than 500 employees and offering services to 2 million-plus domains. This company is comprised of a smart, hard-working team who will service and manage your website.
The various principles followed by them include doing everything with care, working with purpose, face any challenges, innovating using the power of technology, and respecting yourself/others which have made Siteground recognized as a strong hosting provider.
This company has four offices spread in the US, UK, Bulgaria, and Spain with several datacenters across the globe like,
Council Bluffs, IOWL (USA),
London (UK),
Eemshaven (NL),
Frankfurt (DE),
Singapore, &
Sydney (AU).
Apart from these data centers, there are plenty of Cloudfare CDN locations spread throughout the world. All these data centers feature high availability, low latency, and good reliability. Let us now take a look at the features that have made Siteground so popular.
The main features of Siteground hosting include:
Superb uptime

A web hosting provider is good when the uptime is good, hence uptime is one of the most important metrics while choosing a web hosting company. In that aspect, Siteground ranks among the top four providers offering a practical uptime of nearly 99.988% which is higher than the average uptime. With high uptimes, your website will be online all the time and hence there will be no chance of losing your visitors.
Speed

A site can be up but that does not imply your website is fast and this factor, if negative can also harm your website as most people tend to leave your site and navigate to another when it takes time to load. We conducted a test for two months and found out that the minimum response time is nearly 610ms with the maximum being 750ms. Thus, the average response time is around 680ms which is outstanding.

Customer Support

We hope that you know how important customer support is when it comes to choosing a web hosting company. Siteground offers outstanding customer support 24/7 via phone or Live chat. But, it is worth noting that with a GoGeek plan, you will get prioritized support with the most experienced Siteground technicians.

Flexibility

You can go for this hosting for any type of site and there is no need for a lot of technical knowledge to understand the working of the platform and hosting your site. There are many hosting services offered by Siteground like the shared, cloud, WordPress hosting, etc.

Money-back guarantee

As per the industry standard, Siteground offers a 30-day money-back guarantee if you do not prefer the services offered by them. You will also get a refund if they fail to provide the 99.9% uptime rate.
Siteground Products/Services
Please note that there are three tiers offered by Siteground, namely, StartUp, GrowBig, and GoGeek plans that are common for Shared Hosting, WordPress Hosting, and WooCommerce Hosting services and also with the same price.
The top and common features of all these plans include –
Unmetered traffic,
Free SSL and CDN,
Free Email,
Daily backups,
Unlimited databases,
Out-of-the-box caching,
Managed WordPress,
30-day money-back guarantee.
Hence, the three plans mainly differ in the number of websites that can be hosted, the amount of web space provided, and the number of visits per month. For instance, the StartUp plan allows you to host only one website with 10GB of webspace, and 10K monthly visits. The GrowBig plans can be used to host two websites; hence 20GB webspace is provided and supports 25K visits/month. Lastly, the GoGeek plan allows hosting 5 websites, 40GB of web space, and 1 lakh monthly visits.
[affcoups id="5996″]
With the GoGeek plan, you will get priority support, the highest tier of resources, and white-label clients. This is all about the web hosting service that you can subscribe to in Siteground.
WordPress Hosting
Though the plans remain the same, this hosting service is appropriate for those website owners who use WordPress to manage their websites. It is a time-saver option since there will be no need to manually download, install, or configure WordPress. With this hosting service, you can easily select a theme, pick up various site functionalities, and also for installation of different marketing tools.
[affcoups id="5998″]
WooCommerce Hosting
This hosting option helps you to manage the eCommerce sites designed with WooCommerce. Similar to WordPress hosting, this also helps you to quickly install WooCommerce and creating a professional theme.
[affcoups id="6000″]
Cloud Hosting
This hosting service is totally different from the above ones in the terms of plans and features both. In this case, Siteground will offer you guaranteed resources that will not be shared with any other websites like the CPU, RAM, etc. You can also set up the automatic resource scaling options that will adjust your CPU and RAM as per your needs. There are four plans (Entry, Business, Business Plus, and Super Power) that you can choose as per your requirements for the number of CPU cores, memory, SSD, data transfer rate, etc.
[affcoups id="6002″]
Apart from these hosting services, you can also use the domain registrar to register your new domain or others.
Pros of Siteground hosting:
The website hosting packages are not very expensive.
The servers are ultra-fast with quick response times
Free SSL certificates are provided along with other security features.
Customer support is available 24/7.
Free and automated daily backups.
Reliable uptime.
Lot of server options to choose from
Cons of Siteground hosting:
It maintains a good price-quality ratio, but it is not the cheapest provider.
It does not provide a free domain.
The number of sites that can be hosted is limited for all the plans.
In a summary, we do recommend Siteground and as per our preference, it tops the list as a reliable and strong web hosting provider. Siteground offers plans for all sizes of businesses so; it does not matter whether it is just a startup or a large-scale business.
As we discussed in this article, the features and performance of this host are top-notch as compared
to its competitors. We have hosted many of our websites on Siteground and can proudly confirm that we are much happy with the performance of those sites.
So, Siteground web hosting can be a beneficial and wise investment in the field of web hosting!