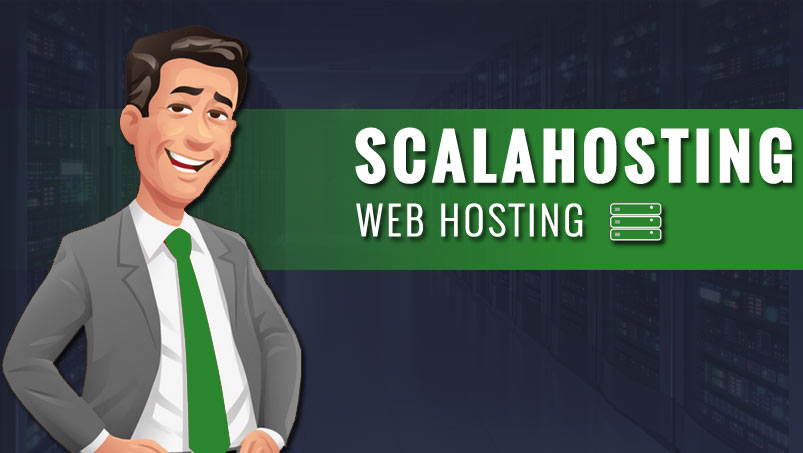 In the field of web hosting providers, there are many less-known hosting companies but possess the ability to beat the industry giants. One such provider is ScalaHosting. This is an independent hosting provider based in the US offering excellent page loading speed, outstanding support with a wide range of features.
This hosting is known to provide various scalable plans from Shared Hosting to the advanced versions of the managed VPS hosting plans. All the shared hosting plans are affordable and come packed with plenty of features.
But every hosting provider out there claims that they offer the best services. Hence, we signed up for the basic plan of ScalaHosting and hosted one website on it to test from various angles. We executed various performance tests and also tested the customer support facility to get an overall idea of this ScalaHosting.
Check out this guide till the end for details!
Brief overview
As per our test, we would like to list down some notable results in the form of bullet points below. Please go through them to get an idea of the reliability and performance of ScalaHosting.
The page loading speed offered by ScalaHosting is on average 620ms.
With ScalaHosting, the uptime as observed by us in the test is on average 99.8% that is good enough, even if it is not the best.
The support is available 24/7 via Live Chat or tickets. This hosting's Knowledge Base provided is also great.
It provides plenty of hosting services like Shared, WordPress, and VPS hosting.
The site migration offered is free of cost for any number of websites.
Various exciting features include unmetered bandwidth, free SSL/CDN, unlimited emails/databases, huge storage, etc.
So, considering all the results of our test, it is eligible enough to grab a 3.8 rating out of 5.
More than 13 years ago in 2007, ScalaHosting was founded with the ultimate goal of achieving customer satisfaction. And, it has done well in that manner because as of 2019, the satisfaction of the ScalaHosting users came up to 99%.
From the very beginning, their focus was on VPS hosting to make it highly scalable, ultra-secure and that will offer high-quality performance. Also, you can enjoy all these features at an affordable price so that everyone can have their own Cloud VPS solution to manage their online presence in a super
way.
Though at the starting of this article we mentioned that it is less known as compared to other web hosts, still it has more than 50,000 customers with 7 lakh plus hosted websites. The SPanel invented by them has become a lot popular these days and they always work to incorporate advanced and new things in the web hosting market.
The two data centers of this hosting are in Dallas (hometown) and Sofia, Bulgaria. Let's check the features of this hosting for which you can go for it.
Many features make ScalaHosting an ideal choice like,
Loading Time

For selecting a web host, you must check its performance which implies the website or page loading speed or time. It is because if your website takes a lot of time to load, most visitors will navigate to another website by leaving yours. Hence, loading time is a critical thing to check and ScalaHosting has not let us down in that aspect. We tested the website hosted on this hosting for one month and observed that the average loading time is around 600ms which is good enough.
Uptime

Having a faster loading time solely will not help to retain your customers if the site remains down for one or two days. Hence, that was our second observation and on average, we noticed that the uptime of the website is around 99.8% with the lowest going down to 99.56%. Yes, this has made us upset to a certain extent but not fully because we feel that it is enough.

Free SSL/CDN

Google prefers the websites with HTTPS to HTTP one and that also has an impact on boosting your SEO rankings. ScalaHosting offers free SSL certificates for your websites with every plan. Also, for achieving a good customer experience, this hosting provides free Cloudflare CDN that allows web caching for your returned customers offering smoother webpage navigation.

Support

The support is available 24/7/365 via Live Chat and ticketing process. They claim that the response time for the Live Chat is only 30 seconds and the ticket is 15 minutes. We have tested this too and found out that they maintain this to a fairly great extent. So, overall the support is good which also counts as one of the major factors for choosing a web host.

Free Site Migration

You will get a free domain for the first year of signing up for this hosting provider. This is quite commonly found in other providers but the best part is that they provide free website migrations irrespective of the number of websites.

Money back Guarantee

ScalaHosting offers an industry-standard 30-day money-back policy. So, you can ask for a refund if you are not satisfied with its services.
Thus, all these major features have made ScalaHosting a reliable web host.
ScalaHosting Products/Services
Shared or Web Hosting
Three shared hosting plans are offered by ScalaHosting (Mini/Start/advanced) with the starting plan allowing you to host one website along with plenty of features. The plans differ in the number of websites that you can host, the amount of SSD storage, and CPU processing power. From the Start Plan, you can enjoy SShield Cyber Security.
[affcoups id="6006″]
WordPress Hosting
The plans and features are similar to that of Shared Web hosting but this is mainly suitable for WordPress websites. This mainly falls under the app hosting services offered by ScalaHosting with many other apps hosting services like Magento, Joomla, Drupal Hosting, etc.
[affcoups id="6008″]
Cloud VPS Hosting
ScalaHosting comes with two different flavors of VPS hosting – managed and self-managed both supporting four plans (Start/Advanced/Business/Enterprise). All these plans differ in the number of CPU cores, RAM, and SSD. The main difference between these two variants can be easily inferred from their names with the managed one being maintained by VPS hosting experts, comes with SPanel and the self-managed has to be maintained by you.
[affcoups id="6008″]
These are the main hosting services offered. However, you can also go for the other hosting services like Reseller Hosting or Business Email hosting. The additional services of ScalaHosting include purchasing domain names, domain reselling, and more.
The loading time offered is decent.
Remote daily backups are a great benefit you can get.
24/7/365 customer support with interesting responsive times.
Free SSL certificates and CDN.
Unlimited email accounts with all plans.
The uptime can be improved.
No phone support.
The cheapest plan allows you to host only one website,
Now, if you ask me the question that whether we recommend ScalaHosting, then the answer will contain a mix of yes and no. It is already seen that the loading time and features provided are great but we cannot ignore the other downside like uptime.
Thus, ScalaHosting fails to attain the top five positions on our list but if you want one of the top VPS hosting options, then you can go with it setting uptime aside.
So, it entirely depends on you and your requirements though we recommend you go through other top provider reviews and select this if you are not satisfied with them.