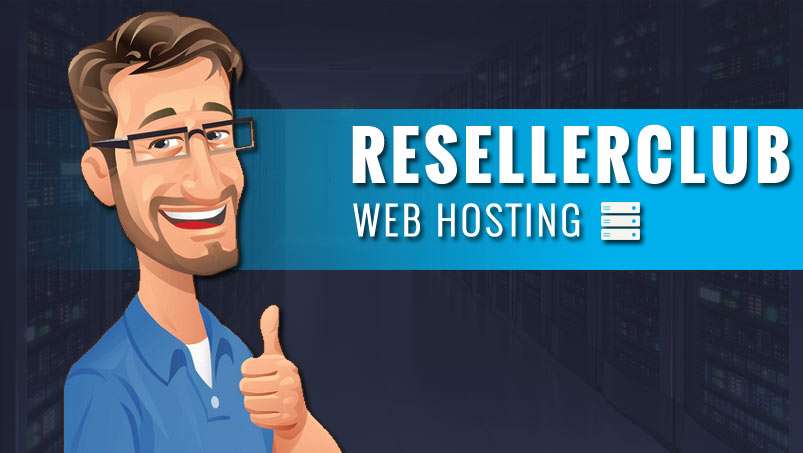 Reseller Club Web Hosting
Are you planning to create an online identity for yourself or your business? If yes, then you are on the right track. But, do you think that hiring a developer and creating a beautiful website will only help? It's absolutely wrong because if you don't give the website a place to reside, then it will never be online and thereby, no one can see your website in their search engines.
So, to assign your website a place on the web, you need to sign up for a hosting plan from a hosting company. One such web hosting is Reseller Club hosting which has made its name in the hosting industry for few years. As the name suggests, it is a reseller of the services provided by other hosting companies.
If you don't know what reseller hosting is, let me give you an overview. It is a type of web hosting where the account holder can sell the hosting services of other companies to its customers and earn a profit through that. Reseller Club hosting company is a reputable and reliable hosting company that you can go for.
Let's start with the details of the Reseller Club Hosting Review guide!
Brief overview
In this article, we will go through the basic history of this company, special features, the various hosting services offered and the advantages or disadvantages of Reseller Club Hosting. As per our recommendation, it is perfect to achieve a 3.9 rating out of 5. We have hosted one website and the results that we got were above satisfactory.
The page loading speed is good that came out to be around 500ms on average.
It offered an average uptime of 99.97%.
Feature-rich hosting plans.
It has a 30-day money-back guarantee.
The support is also great via phone, Live Chat, and ticketing system.
A lot of hosting options like shared hosting, cloud hosting, VPS, dedicated server, WordPress hosting, and professional email.
Provides free SSL certificate even with the cheapest plan.
This company was founded in Mumbai, India about 23 years ago, in 1998. Currently, it is owned by the EIG and collaborated with the Hostgator and Bluehost hosting providers. Since then, it has slowly grown and evolved through the years to become one of the largest reseller hosting companies.
There are more than 2 lakh resellers now and more than 5 million domains have been served across more than 150 countries. Reseller Club has partnered with various well-known providers of web hosting, email, SaaS, and other security products to offer you the best services or products.
It has a lot of server locations across the world like the US, India, UK, Turkey, Hong Kong, etc.
The special features of this Reseller Club hosting are:
Uptime

This is an important factor that you need to check while signing up for any hosting because good uptime of the server is required to maintain the traffic of your websites. In this case, Reseller Club hosting offered a good uptime with a total downtime of only 1.5 hours in the total three months.
Loading Speed or Time

After the uptime is ensured, the next thing that you need to look for is the loading speed of the websites or pages. It's because if the page loads slowly, then most people tend to leave your website and switch to a different one. During the three months, we found that the Reseller club hosting offered a faster loading speed with an average time of nearly 500ms.

Security

The third most important metric is security so that the websites are less prone to malware attacks. Reseller Club hosting takes security as a priority and offers free SSL certificates with all the plans. Moreover, there are also Sitelock and CodeGuard protection for malware scanning and removal.

Customer support

Good and responsive customer support is essential for the hosting company to be one of your ideal choices. The support provided by Reseller Club is quite good. They offer a ticketing system and as per our test, they took only 6 minutes with the solution. The phone call support is also available and our experience was good with their friendly behavior. The Live Chat support is good but you can experience a bit of delay in this. They also feature a good quality knowledge base that can clear most of your queries.

Money back Guarantee

The Reseller Club hosting offers a 30-day money-back guarantee that is as per the industry standard. So if you are not satisfied with its services, then you can easily ask for a refund.
Reseller Club Products/Services
A lot of hosting services are provided by this hosting company:
Shared Hosting
Three shared hosting plans are there – Personal, Business, and Pro. The Personal plan allows you to host a single website with unmetered disk space, data transfer, email accounts, free cPanel/SSL certificate. The features remain the same with the Business plan allowing you to host 3 websites and Pro supports unlimited domains to be hosted.
[affcoups id="6012″]
VPS Hosting
Coming to the VPS hosting services, you will get four plans each with HDD and SSD (Standard/business/Pro/Elite). The plans feature 2-4 CPU cores, 20GB-120GB SSD space/30GB-240GB HDD disk space, 2GB to 8GB RAM, 1-2TB bandwidth as you provide more price. Except for the Standard plan, you will also get an additional IP.
[affcoups id="6024″]
Dedicated Servers
You will get three plans of dedicated server hosting (Standard/Pro/Elite) with the CPU as Intel Xeon D-2141 I and a processing speed of 2.2GHz (8core/16threads). Here also like the VPS plans, you can choose between SSD and HDD storage. Other features include 16GB to 60GB RAM, 500GB to 1790GB SSD storage/1000GB HDD, 5TB to 15TB data transfer, and 1 dedicated IP+2 free IPs.
[affcoups id="6026″]
WordPress Hosting
For WordPress websites, you can go with the WordPress hosting packages and there are four such plans (Starter/Performance/Business/ Professional). As per the sequence, these plans allow you to host 1, 2, 3, and 5 websites along with 25K, 200K, 300K, and 500K traffic per month. Also, you will get 2-6 cores, 2GB to 6GB RAM, 5GB to 40GB storage. All the plans feature automatic WordPress updates, optimized WP databases, unlimited emails, and a pre-installed Jetpack plugin.
[affcoups id="6016″]
These are the four main hosting services offered. Besides, it also offers Cloud hosting, Reseller hosting, business email hosting, etc. You can also purchase domains from their portal.
Pros of Reseller Club hosting:
Outstanding customer service.
Good uptime and performance.
Easy to start reselling business of your own.
A lot of flexible hosting options.
The loading speed or time is decent.
The website security features are also good.
Cons of Reseller Club hosting:
The plans are a bit expensive.
No Live Chat support post-sales.
The user interface is not very good.
As it can be seen through this guide, there are a lot of hosting services offered by Reseller Club hosting, so it can stand as a strong and reliable web hosting provider. But, we suggest you take a look at the other hosting options in the market before choosing Reseller Club hosting.
It's because you can get more reliability at a price lesser than what Reseller Club hosting charges. Overall, it can be a wiser choice to go with the Reseller Club hosting and we also recommend it.
Through this hosting, you can enjoy the services provided by the top hosting companies and hence there is no need to give it a second thought.