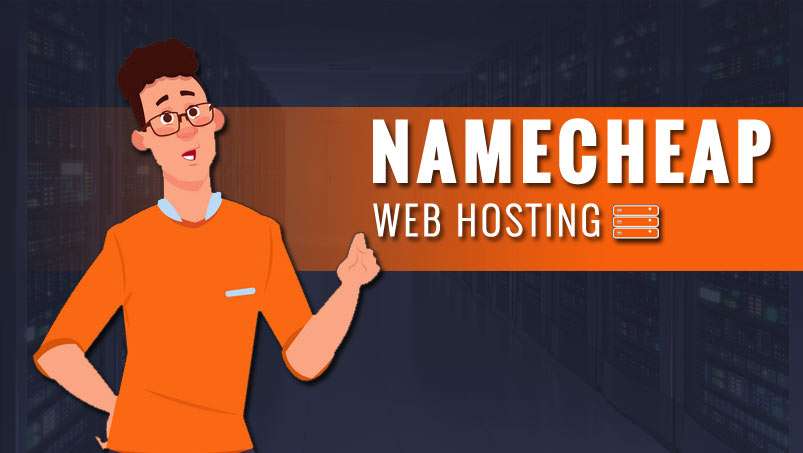 You may have heard the name of Namecheap as a popular domain registrar but it also offers one of the best and affordable web hosting services. Besides, it also offers SSL certificates, privacy protection services, and more that can make your SEO-optimized website ready to get more traffic and enhances the conversion rates.
So, as a website owner, Namecheap hosting can be an ideal fit to host all your websites. Though most of the reviews about Namecheap on the Internet are regarding domain management services, it has made solid ground in the market of web hosting too by providing several Linux hosting solutions like Shared Hosting, Reseller, Dedicated, VPS, and WordPress hosting.
We have performed strong research on the reliability and performance of this hosting and prepared this guide so that you can get the information in a consolidated manner. Thus, without wasting any more time, let's begin our tour to get all the details about this hosting.
Brief Overview
Before starting our trip, let us provide you some of the special features of this Namecheap hosting with some bullet points below:
The web hosting plans are very cheap.
No matter whatever plan you subscribe to, you will get unmetered bandwidth, free website builder, free SSL, and free CDN.
A free domain name and privacy protection feature will also be offered with all the plans.
It offers an uptime guarantee of 100%.
The customer support available 24/7 is knowledgeable and you can get your issues resolved via Live Chat or opening tickets to their queue.
As per our verdict, it grabs a 4.1 rating out of 5.
This ICANN-accredited technology company was founded back in 2000 by Richard Kirkendall. They mainly started as a domain registrar company and within two decades, over 10 million domains are under their management.
The high-quality domain and hosting services provided by Namecheap are available at the most competitive prices in the market that has made it achieve recognition for one of the fastest-growing American companies.
This company is based in Phoenix, Arizona with nearly 1000 employees serving its customers with various tools and services that can help you to create a strong online presence. The data centers are located in the USA (Phoenix) and UK (Nottingham).
Their goal is very straightforward which is, to be honest, friendly, and helpful that they have also proved for years. They believe that the Internet, domains, websites, hosting packages are not only for coders or advanced users but these things should be accessible to all.
Why Choose Namecheap hosting?
Let's now take a look at the features of this hosting which is very important before you plan to subscribe to one of their plans.
Speed and Performance

It is crucial to enhance the speed of your websites as that has a direct impact on your websites' rankings and attracting more visitors. The page loading speed is on average 625ms which has never gone beyond 900ms for the one month that we have checked.
Uptime

Namecheap hosting packages boast of providing a 100% uptime guarantee and it is nearly true as we have checked practically for one month and on average, we can say that the uptime provided for the websites is nearly 99.93% which is good enough, even if not the best.

Customer Support

Customer support is available 24×7 but you can connect with them only via Live chat or opening tickets to their team. There is no phone call support provided which can upset you a little bit although you can get a response within just two minutes through the chatbot. Their knowledge base provided is quite good with the search functionality that can help you to get help for anything you may need.

Security Features

Namecheap supports one of the best security features which is the time-based one-time password algorithm two-factor authentication (TOTP 2FA). This is a free service designed by them to keep all your data secured.

Website Builder

It provides a drag-and-drop website builder with all the plans that consist of 200 templates that are pretty good-looking and attractive. You will not require any technical knowledge for using this builder as it is simply dragging and dropping.

Free SSL

With all the plans, you will be offered a free SSL certificate that can enable you to move your website from HTTP to HTTPS. This not only ensures a secure communication process but guarantees better SEO ranking too.

Money-back guarantee

Namecheap hosting packages come with the industry-standard money-back guarantee policy for 30 days.
Namecheap Products/Services
Shared Hosting You will be provided with three plans of Shared Hosting (Stellar, Stellar Plus, and Stellar Business). Unlike most of the hosting providers that offer to host only one website for the starting plans, Namecheap's basic plan offers you the flexibility to host 3 websites. All the plans come with unmetered bandwidth, healthy storage, backups (auto-backup facility except the Stellar plan), and subdomains ranging from 30 to unlimited as you go up the ladder.
[affcoups id="6032″]
WordPress Hosting If you want a reliable hosting service for your WordPress websites then try the EasyWP service of Namecheap WordPress hosting. Your websites will be 3x faster than the shared plans and being hosted on a cloud platform, your websites will be live for most times without worrying about failures. There are three plans (EasyWP Starter, EasyWP Turbo, and EasyWP Supersonic) that offer numerous features like SSD storage from 10GB to 100GB, support 50k to 500k visitors monthly, processing power, RAM, free CDN, free SSL, and more.
[affcoups id="6034″]
VPS Hosting Under VPS Hosting, you will get two options of plans to choose from, Pulsar and Quasar. The VPS hosting provides you the combined advantage of dedicated server's performance and shared hosting's affordable rates. The features provided by these two plans include 2 or 4 CPU cores, 2GB or 6GB RAM, 40GB-120GB SSD RAID 10, and 1000-3000GB bandwidth.
[affcoups id="6038″]
Dedicated Server Hosting For large-scale businesses, all you need is to take up a dedicated server hosting. There are three plans among which you can choose as per your needs. Similar to the VPS hosting plans, the three plans differ in the number of cores, RAM, SSD, and bandwidth. The main features of this dedicated hosting include free migration, options for server management (User-Responsible, Basic, or Complete), Airtight Security, and an optimized network powered by Cisco/Juniper.
Apart from these basic hosting packages, you can also go for Reseller Hosting if you are planning to open up your own hosting business. Of course, we will not forget to mention the various domain management services that have made Namecheap famous like the Bulk domain search options, Domain transfer, Free DNS, Premium DNS, etc.
Pros of Namecheap hosting:
Plenty of plan options at fairly reasonable pricing.
TOTP 2FA is the best feature.
Free CDN, SSL, domain provided.
The domain services are excellent.
The support and knowledge base are good.
Backups are there twice a week.
Cons of Namecheap hosting:
There is no phone call support.
Some aspects of the dashboard can be hard to find sometimes,
We have tried to include all the relevant details that you may need for choosing a hosting company. It is better to read out various reviews before taking up any hosting company and that's what you have done now.
Hope you have found it useful and there is no need to read out the reviews separately as all those tasks have been done by us to prepare this guide.
With a tight budget, if you want a reliable hosting provider, Namecheap can be one of the best providers as we have found out that all its plans are very cheap. So, overall this can be a good and wiser choice to invest.