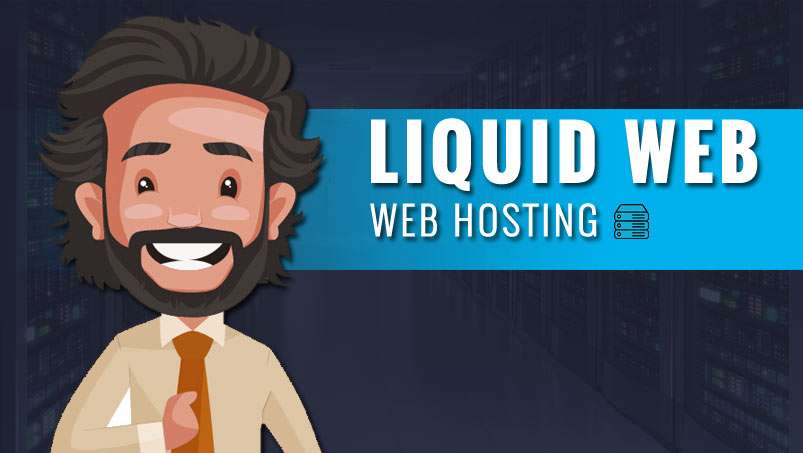 In today's world, the online platform has gained immense popularity since people can connect all across the globe just by the means of a website. Only the creation of a website will not help you to do so because you will need webspace for the website. It is the web hosting that provides your website a place on the web.
One of the popular hosts is Liquid Web hosting that falls in the category of higher-end hosting providers, especially due to the immense variety of plans and flexibility. However, there are no shared hosting packages but it offers various VPS, cloud, and dedicated server plans.
To check the strengths and weaknesses of this hosting provider, we have hosted our test website for three months and the results that we got were brilliant. That is the reason we planned to make a documentary based on our test results as it will also serve as a guide for you whether to go for it or not.
So, stay tuned till the end of this Liquid Web Hosting Review to know more!
Brief overview
As we mentioned earlier, we are going to review the Liquid Web hosting based on our test results and so it will more of a kind of practical review rather than just a hypothetical one. The test results that we have got compelled us to give it a 5 on 5 ratings but the lack of shared hosting packages made us reduce it to 4.5.
The page loading speed is super fast with an average time of less than 350ms.
Outstanding uptime experienced with more than 99.99%.
Excellent customer support via Live Chat, Phone, and Helpdesk with a good quality knowledge base.
It offers free site migration.
The attractive features include SSDs, gigabit bandwidth, DDoS protection, Cloudflare CDN, built-in backups, SSL, etc.
Founded in 1997 by Jim Geiger, Liquid Web hosting is a privately managed web hosting company. It takes the top position considering best customer loyalty and has been ranked one for dedicated server hosting. This hosting company comes in ten global data centers with more than 500 hosting professionals on-site.
The company manages over 5 lakh websites with more than 45000 customers across 150 countries. It has L3 technicians in the data centers who ensure monitoring, security, and network management with more than 250 Red Hat Linux, Windows, and certified administrators.
This hosting provider offers everything whether it is big or small and they have a broad portfolio providing you everything that you need to grow. All the support channels like Phone and Live Chat offer 59 seconds initial response guarantee.
There are multiple benefits of this Liquid Web hosting. Some of the features that made it so popular include –
Uptime

As per Liquid Web hosting, they offer a 100% uptime guarantee unlike most of the hosting companies as they claim to provide a 99.99% uptime keeping in mind about the natural disasters. We have checked the uptime of this host for three months and found that it is more than 99.99% with only a few minutes of downtime. This makes it a super choice since the excellent uptime of the website can attract more customers.
Page loading speed

Not only the uptime, but loading speed and time also account to make your business popular. In that case, also, Liquid Web hosting has performed excellently and provided less than 350ms of loading time on average. With this, it has proven to be one of the best in the industry.

Support

We have mentioned earlier that this web hosting provider offers phone call, Live Chat, and Helpdesk support. To check the responsiveness, we have tested the Live Chat system and found that it provides immediate replies to our queries. Also, we have called them on a weekend and they answered it within few seconds and also provided all answers to our questions quite fast.

Free Emails

It is important to have a professional email account while running a business. Having a branded email address with a domain name can offer a symbol of professionalism and also helps to build confidence among your customers, partners, etc. And, you will get free email accounts with this hosting company.

Interface

Unlike most of the hosting providers, Liquid Web hosting provides the flexibility to choose among three control panels instead of one – Plesk, Interworx, and cPanel. To leverage these options, you need to subscribe for at least one year. Their custom control panel is also easier to use but you need to spend some time with it.

Free Site migration

If you are not very satisfied with some other existing hosting services, then you can just transfer your site from there to the Liquid Web host. This will be provided for free of cost whether it is internal or external.

Security

It is important to have an HTTPS website so that your website's information can be secure and that is where an SSL certificate is required. Fortunately, you will get a basic SSL certificate for free but for additional security options, you need to purchase some premium SSL certificates.
Liquid Web Products/Services
The major hosting services offered by Liquid Web hosting are:
VPS Hosting Liquid Web offers a powerful and secure VPS hosting solution in four plan options like 2GB RAM, 4GB RAM, 8GB RAM, and 16GB RAM. These plans also offer from 40GB to 200GB of SSD space, and 2vCPU to 8vCPU. However, you will get 10TB of bandwidth along with the flexibility of cPanel, Interworx, or Plesk admins. In addition, you can also choose between four bundle plans that will provide you various security and backup features. It also has an option called private VPS parent that lets you deploy your own VPS instances.
Cloud Liquid Web offers Cloud Servers that provide rapidly scalable and deployable cPanel hosting featuring OpenStack technology. Secondly, it has private cloud hosting powered by VMware and Netapp that provides you a virtual data center for your own. You can get both the benefits of a public cloud with a streamlined management experience. Thirdly, you can also get cloud-dedicated servers that feature 0% sharing and 100% reliability.
"Dedicated For large-scale organizations, a powerful real-time hosting experience is very important and that is what the dedicated servers offer you. Not only the simple plans, but this package also has various bundles that can help you to save your money for DDoS protection and backups. As mentioned above, you can also go for the Cloud dedicated servers to enjoy an optimum experience.
[affcoups id="6044″]
These are some of the major products or services offered by LiquidWeb. Apart from these, you can also sign up for enterprise hosting or eCommerce hosting like managed WordPress or WooCommerce hosting.
Pros of Liquid Web hosting:
It offers a variety of hosting plans.
Super responsive customer support.
Outstanding uptime guarantee.
The website migration is free that is an added advantage.
Page loading time is super fast.
Cons of Liquid Web hosting:
There is no shared hosting package.
The plans come with high pricing.,
Now, in the end, if you ask us whether we recommend Liquid web hosting then we recommend Liquid Web hosting. It offers a wide variety of features that make it an ideal choice for you especially the uptime and faster loading speed.
But if you are a beginner or run a small business, then this is not an appropriate choice due to lack of the shared hosting packages and highly-priced plans. However, if budget is not a concern for you, then this can be a wiser choice that you can go with.