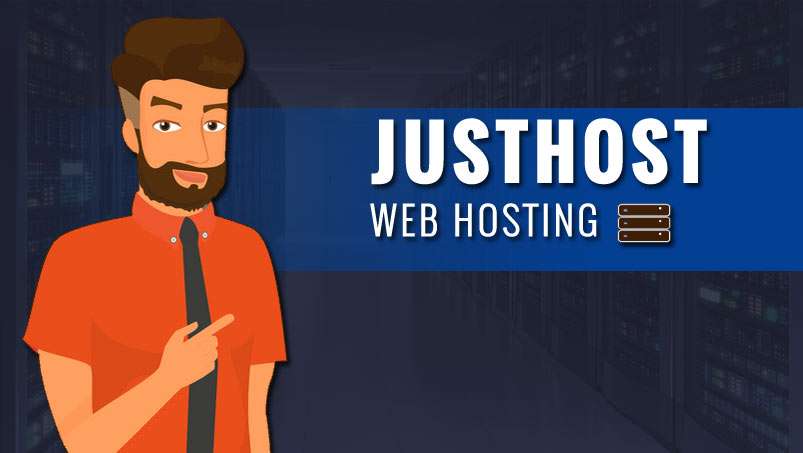 As you may know that for powering up your online presence, the major thing that you need is a user-friendly website. But to give that website a home, you need web space and that's where the requirement for good web hosting comes into the scenario. It's because web hosting providers assign a space to your website where it will reside.
Yes, there are plenty of web hosting companies across the globe, and all claim to offer the best hosting services. Some of the web hosting providers are under-rated though they provide good quality services. One such provider is Justhost hosting which provides shared, VPS, and dedicated hosting at affordable rates.
Is Justhost hosting reliable? Why should I go for Justhost hosting? To answer all these queries, we have hosted our website on this hosting for three months and tested the web host from several aspects. From that test results, we have prepared this report or guide by giving you a detailed Justhost hosting review 2021.
Brief Overview
We will go into the detailed analysis of this hosting shortly but first, roll your eyes over some of the basic and important test results. Considering the test results, we finally concluded that it can be rated with a 3.3 rating out of 5 that is fair enough, if not the best.
The average page loading speed of the three months is nearly 950ms.
The uptime is also pretty good with an average of 99.95%.
It offers you 24/7 Live Chat and phone support with a good knowledge base.
It doesn't provide free site migration.
The special features include unlimited bandwidth, good storage, free SSL certificates and domain, one-click WordPress installation, a 30-day money-back policy, and more.
Let's now check the details of this hosting provider but first let us get a glimpse of the hosting company.
Justhost is a small UK-based web hosting provider that focuses mainly on shared hosting plans. Founded in 2008, this was started by Chris Phillips back in California. Currently, it has been acquired by EIG or the Endurance International Group similar to the top hosting providers like Bluehost or Hostgator.
It offers very affordable plans if you sign up for a long period of two to three years. But, if you don't have that much budget then there are some monthly term options as well that you can register. The lot of freebies provided with the hosting makes it a solid brand among the top hosting companies although it lacks that fame as others.
This web host has various headquarters in the US, UK, and Australia while the data center is located in Illinois, US.
In this section, we will highlight some of the special features that will make you feel confident while choosing Justhost hosting. The information here will be genuine as per our test results.
Great Uptime

One of the most important factors that symbolize good hosting is the uptime that it provides. It's because if a site remains down, then that can directly affect your business as visitors will move on to some other site for getting the information that they need. In addition, poor uptime of your website can also impact the SEO ranking in the search engines. Justhost proved to provide an excellent uptime of 99.95% uptime on average out of which most of the time, it was 100%.
Support

This web hosting provider has three kinds of support that include phone, live chat, and a good knowledge base. We have tested the live chat facility and found that they promptly answered all the queries. Even the knowledge base can answer most of your basic queries or issues.

Loading Speed/time

After uptime, the page loading speed and time must also be fast to retain your visitors and enhance your traffic. In this aspect, Justhost could not reach our maximum satisfaction level because some of the time, we found that the loading speed takes more than 1 second also. But on average the loading time of the website was 950ms which is not the best as some other hosts offer much lesser loading time.

Security

One of the topmost priorities while choosing high-quality web hosting is security. And, Justhost offers a lot of security features like SSL, SSH, SSD, and more. It also has Sitelock protection that performs daily scanning and security maintenance.

Free Domain Name

No matter whichever plan you choose, you will get a free domain name for the first year. You can choose any top-level domains like .com, .net, .biz, .info, or .org. After completion of the first year, you need to pay the required renewal fees for the domain.

Money-back policy

Justhost hosting offers the industry-standard 30-day money-back guarantee if you are not much satisfied with their services. However, they will deduct the domain fees for cost coverage.
These are some of the attractive features that make this Justhost hosting an ideal choice.
Justhost Products/Services
Shared Web Hosting
There are three main plans for the shared hosting of Justhost, namely the Basic, Plus, and Choice Plus. The basic plan allows you to host only one website with a website space of 50GB and 5 email accounts. The Plus and Choice Plus plans allow you to host unlimited websites with unlimited webspace and unlimited emails. In the Choice Plus plan, you will get domain privacy protection and Codeguard Backup protection. For all the plans, you will get a free domain name and unmetered bandwidth.
[affcoups id="6046″]
VPS Hosting
Justhost's VPS hosting plans are very affordable and offer you the flexibility of dedicated hosting at a low price. The VPS hosting has four plans (Standard/Enhanced/Premium/ultimate) with scaling up of resources. Both the Standard and Enhanced plan offer dual-core processors while Premium and Ultimate features a triple-core and quad-core processor. All the plans feature 64-bit of CentOS 6.5 and a free domain name. However, the RAM, storage, data transfer rate, the number of IPs will increase as you enhance your plan.
[affcoups id="6050″]
Dedicated Hosting
Justhost's dedicated hosting offers three plan options, Standard, Enhanced, and Premium. All the plans offer you 4 cores, 8 threads Intel Xeon processor with 64-bit CentOS 6.5. The standard plan provides a 3MB cache, 4GB RAM, 5TB/month data transfer, 3IPs. The Enhanced plan provides 8MB cache, 8GB RAM, 10TB/month data transfer, and 4IPs. Finally, the Premium plan offers 8MB cache, 16GB RAM, 15TB/month, and 15IPs.
[affcoups id="6048″]
So, you can choose any one of these hosting services as per the size of your business.
Pros of Justhost hosting:
The uptime provided by this hosting is top-notch.
The support is highly responsive and knowledgeable.
Easy to use website builder.
Free domain and SSL certificates are provided.
Affordable plans.
Security features are great.
Cons of Justhost hosting:
It does not have Windows hosting.
The loading time should be improved,
Overall, Justhost can be a good choice for you especially coming to the Shared hosting packages. But, we suggest you look for the other better options of the web hosting providers.
Yes, the customer support and uptime are great but we can't overlook the slow loading times.
Moreover, the plans are affordable but some other top competitors offer better services at a similar price. So, it is a good idea to go through them at first and then if you don't like them, Justhost can be a much reliable option for you.
Hence, our recommendation for Justhost is a mixture of yes and no. Lastly, it depends on your choice, choose it if you like it after going through this entire review.