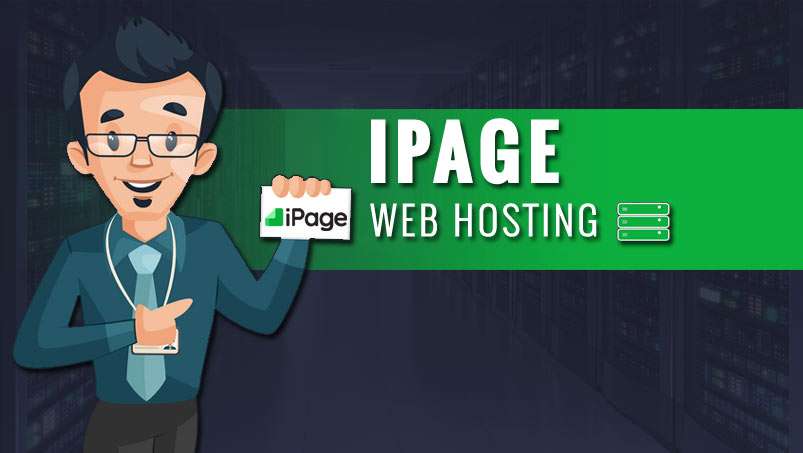 FSearching for a budget-friendly web hosting plan to give your website a home on the Internet? Then this can be the perfect guide for you because we will be discussing the cheap and affordable web hosting services, iPage.
The plenty of features with the plans of iPage and the intuitive site builder offers an easy way to build a dream site with awesome flexibility and reliability.
Therefore, iPage comes with an excellent budget versus performance output which can be one of the biggest benefits to sign up for it. This feature-rich web hosting platform can be hard to compete with due to its versatility.
Besides the impressive web hosting options and features, the stunning website builder brings more simplicity to your web experience. This hosting offers a variety of services that include Shared Hosting, WordPress hosting, VPS hosting, dedicated hosting, and more.
We will look into all these areas in detail through this guide, so let's begin!
Brief Overview
In this section, we will present you a summary of all the results that we have achieved in our test with the site hosted on this hosting.
The loading speed on average is good enough, less than a second.
The uptime of the website as tested rounded off to 99.7% on average.
Great technical support 24/7 via Live Chat and phone with an amazing knowledge base.
The special features that you will get with all the plans include a free registered domain for the first year, free SSL certificates, unmetered bandwidth, unlimited emails, etc.
As per our test and considering all the round experience with this web hosting provider, we want to rate it 3.9 out of 5.
Founded in 1998, iPage web hosting has become a lot popular powering more than one million websites across the globe. Currently, it is owned by EIG or Endurance International Group and use to serve its customers with the two data centers in the US.
The main reason of iPage for creating a difference in the market of web hosting is their different angle of focus which is more towards their customers and employees than only business.
You will understand the truth in this once you sign up because they will instantly reach out to you for assisting in various aspects like website designing, creation of email addresses, and more.
Affordability, reliability, and ease of usage are the main elements that have made this hosting provider so trustworthy among website users.
We will now look into the attractive features of this hosting to understand more about the reason for its popularity.
The features that have made this hosting so famous are:
Speed & Performance

Whenever anyone wants to select a web hosting, then the major thing that they look for is the budget versus performance results. That is the reason we have tested the loading speed of the websites hosted on this hosting and found out that the results are fair enough to consider it reliable hosting. On average, the loading speed is less than a second and proved to be better than 70% of the websites on the Internet. This is crucial because most people tend to leave slow websites.
Uptime

There will be no value if a website loads fast but remains down for most of the time. Hence, uptime is also an essential metric to look for in good-quality web hosting. As per our test results, the uptime offered by iPage hosting is robust enough as most of the time we got 99.97% uptime of the website.

Support

You will find very few hosting providers that provide 24/7/365 customer support through phone calls and Live Chat. But, iPage hosting offers both and we found out that the representatives are friendly and helpful whether you seek help for any issues or queries.

Security

It is very essential to check for the security of a web hosting provider since websites that are live on the Internet are always prone to malware or attacks. iPage hosting offers various security features that safeguard your website from various angles. Moreover, you will also get SSL certificates that also ensure data encryption between the Internet communications.

Money back Guarantee

With iPage, you will get the industry-standard 30-day money-back policy with no extra questions asked. If you are not satisfied, just let them know and they will refund your money happily.
These are some of the main features of iPage hosting. Let us take a look at the services now.
Shared Hosting
Only one plan is offered by iPage Shared hosting that offers you all the essential tools to get your site ready that is ideal for personal websites, blogs, or small businesses. This Go plan allows you to host unlimited websites with unlimited storage, free SSL certificate, free domain/email addresses, website builder, and 24/7 support.
[affcoups id="6052″]
WordPress Hosting
This hosting service comes with two plans, WP Starter and WP Essential that lets you build a perfect WordPress site easily and quickly. With the Starter Pack, you can host one website with free SSL/domain, unlimited storage/bandwidth, pre-installed themes and plugins, and 24/7 WordPress support. Along with the same features, the Essential plan allows you to host unlimited websites with some extra features like automatic malware removal and SiteLock professional security.
[affcoups id="6054″]
VPS Hosting
Scale up your business with the VPS hosting service provided by iPage. There are three main plans (Basic/Business/Optimum) with differences in the CPU cores, amount of RAM, disk space, bandwidth, IP addresses which increase as you go with higher plans. The common benefits of all the plans include a free domain for one year, CentOS 7, and cPanel.
[affcoups id="6058″]
Dedicated Hosting
If you want your website to get a personal home then this dedicated hosting can be the best option to go with. It consists of three plans (Startup/Professional/Enterprise) that differ in the same way as the VPS hosting but this time your website will be provided with individual servers.
[affcoups id="6060″]
These are the major hosting services offered by iPage hosting. Besides, you can also go with the Email Hosting and the domain registrar for purchasing domains as per your preferred names.
All the plans are much affordable yet full of various features.
Offers a wide range of tools and services that are customer-friendly.
The security options are enhanced and impressive.
No-questionable 30-day money-back guarantee is amazing.
Third-party Application support facilities.
The domain names are expensive.
No cPanel, instead they use their custom vDeck control panel.
They should focus on improving the loading time as other providers are providing lesser loading times than they offer.
So, overall we recommend iPage hosting but there are some other better options available in the market which you can check once. Many things make iPage hosting one of the preferred choices like awesome customer support and third-party apps at an affordable cost.
However, we do note that the performance of this hosting is a mix of good and bad. And, the hosting plans come with the basic features but they lack the extras which you can find in some of the other ones.
So, although it can be a good choice, we recommend you to go through some other hosting providers like Bluehost, Hostinger, Siteground, etc.