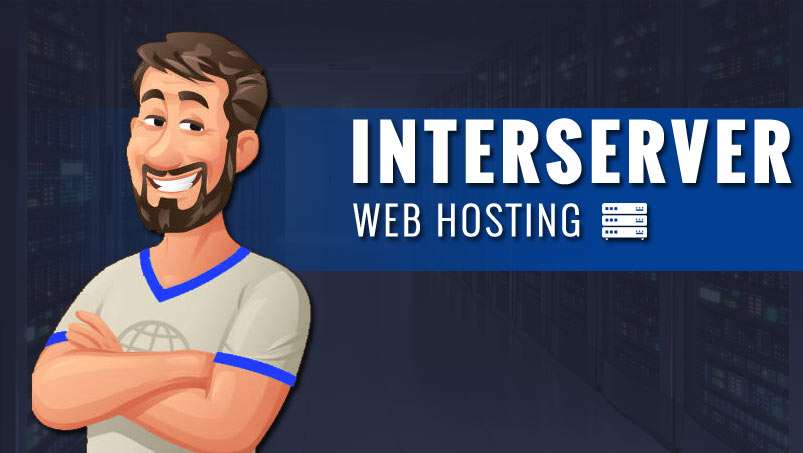 We hope that most of you know how important web hosting is for a website because it defines the foundation of a site. And, it is very difficult to pick up the best web hosting provider as there are many companies and every company claims that their services or offers are the best ones.
In this aspect, we want to highlight one of the best and reliable hosting providers, Interserver offering amazing services for more than the past two decades.
InterServer hosting offers a lot of plans or services like Shared hosting that features great backups and mind-blowing storage. The VPS plans are also ideal for you to expand your business besides providing various Cloud services and WordPress integration.
The ability to integrate this web hosting company with Joomla and Magento lets you build up your eCommerce site easily and quickly. Let's start our journey to get a detailed InterServer hosting review.
Brief Overview
Are you in a hurry and don't want to get into the details? Then, check out some of the notable points below:
The page and website speed provided with this hosting is great and as per our testing, it is 650ms on average.
The uptime as tested by our experts is nearly 99.9% which is good, if not the best.
Customer support is available 24/7 through Live Chat, email, and contact form with an excellent knowledge base.
The features of this hosting include inter-proxy caching, unlimited emails, unlimited storage and bandwidth, weekly backups, Cloudflare CDN, easy site builder, free SSL, and more.
You will also get free website migration.
As per our verdict, it grabs a 3.7 rating out of 5.
Founded in 1999, Interserver web hosting is one of the oldest companies located in Secaucus, New Jersey. This was founded cooperatively by Mike Lavrik and John Quaglieri just with a domain name and a virtual hosting reseller account.
The core principles followed by the InterServer team include quality, service, and support that continued to remain the same even when the technologies have advanced so far. The company evolved gradually to become a full-fledged hosting company by including Shared hosting, Cloud Hosting, Quick Servers, and Dedicated Servers. Also, it offered plenty of collocation services to optimally satisfy its clients and remain the best of best-hosting providers.
The clients of Interserver hosting range from individuals to large-scale businesses with both domestic to international. There are four data centers of this hosting company out of which three are in Secaucus, New Jersey, and the other one in Los Angeles.
Now, check out some of the special features that made Interserver hosting what it is today!
Why Choose Interserver hosting?
The main features of Interserver hosting include –
Speed and Performance

As you may know, speed is one of the most important factors that you need to check while selecting a perfect web host. As per InterServer, they offer the fastest website speeds to their clients but when we checked ourselves for two months, we found out that they are very true with the average website speed ranging around 650ms. Thus, it can be very well seen that they have improved in this aspect a lot than earlier.
Uptime

This is also one of the crucial things that you need to check for web hosting and here also, InterServer proves to provide above average results though not the best. It claims that the uptime is 99.90% and when we tested our site on this hosting, we traced out that it ranges from 99.6% to 99.87%. So, it is good enough but not the best of course.

Support

The customer support of InterServer hosting is available 24/7 through Live Chat and Email. As it has been proved by the statistics, Live chat has almost 92% of customer satisfaction and InterServer does that very well by responding within just one minute and even if your query is not grammatically 100% correct.

Free SSL and security

All the plans of InterServer hosting provide free SSL certificates which is an important part of SEO ranking these days because Google bots like to crawl HTTPS websites rather than HTTP. Besides, it also has Intershield security which is a security system offering various functions like blocking web attacks, virus scans, machine learning built firewall, and an in-house malware database.

Unlimited Storage

There is no limit to any of the plans of this InterServer hosting to how much information you are putting on the websites. It's because all the shared plans come with unlimited SSD storage that is a great benefit.

Free website builder

This is another advantage that you will get by subscribing to the plans of this hosting. You will get the free website builder SitePad with your subscription free of cost. The feature is an ideal one for any individual or business who is looking to easily build a website.

Easy Interface

InterServer hosting comes with the most popular and easiest control panel cPanel that can help you to manage your websites, files easily.

Money-back guarantee

InterServer hosting offers you an industry-standard 30-day money-back guarantee policy.
After the features, let's move on to the services offered by this hosting package.
Interserver Products/Services
The basic services include:
Shared Hosting
This hosting package is ideal for start-ups or freelancers with full scalability and flexibility. It is also known as 'Standard Web Hosting'. The main features of this hosting include unlimited ultra-SSD storage and email accounts, free website migration, global content caching, free SSL certificates, website builder, weekly backups, and more.
[affcoups id="6070″]
VPS and Cloud Hosting For medium to large-scale organizations, VPS hosting can be an ideal pick with one-click installations and integrations. The basic plan of this hosting service offers 30GB SSD storage, 2GB memory, and 1TB of data transfer. There are almost 16 plans of VPS hosting with enhanced features and pricing among which you can choose one as per your needs.
Dedicated Server Hosting Dedicated servers are great for large-scale businesses because here you will get one server for your website and no other ones are shared within that server. The two plans are related to the Intel and AMD processors with the basic plan of the former one feature 4 CPU cores, 8GB memory, 250GB SSD, 20TB transfer, and 5IPs. Coming to the AMD plans, the basic ones offer a 6-core Single CPU, 64GB memory, 2x1TB NVME, 20TB transfer, and 5IPs. You can also scale up the resources as per your need.
WordPress Hosting For WordPress websites, this hosting service from InterServer can be an ideal solution as it offers you complete flexibility to your website. Along with the standard web hosting, you will get unlimited email accounts, 450 Cloud apps, unlimited storage, and inter-shield protection. There is also an option to take the subscription for WordPress VPS hosting.
Private Email Hosting You will get outlook, webmail, and mobile access with 25GB mailboxes, group listing, email archiving, and more. It is supported on iOS, Android, Windows, and Mac. The emails you will send or receive are 100% secure as none of them will be scanned or sold for advertisements or other purposes.
Apart from these, there are other hosting services like ASP.net hosting, Boost web hosting, reseller hosting, student web hosting, and more options.
Pros of InterServer hosting:
Good support.
Unlimited storage and email.
Free website migration and website builder with all plans.
Affordable and cheap pricing.
Loading speed is great.
The website migration is free.
Cons of InterServer hosting:
No free domains are provided.
No phone-call support facility.
There is scope to improve the uptime.
More data centers should be added.
Hope you have gained enough information regarding InterServer hosting. Yes, we do recommend this hosting but first, please take a look at other best web hosts available in the market. The data centers of this hosting are mainly based in North America so if your target audience is worldwide, then it is a good idea to look for other ones.
So, you can subscribe to the plans of InterServer hosting as they are relatively cheaper and also they offer a 30-day money-back guarantee, thus, you can ask for a refund if not satisfied with their services.