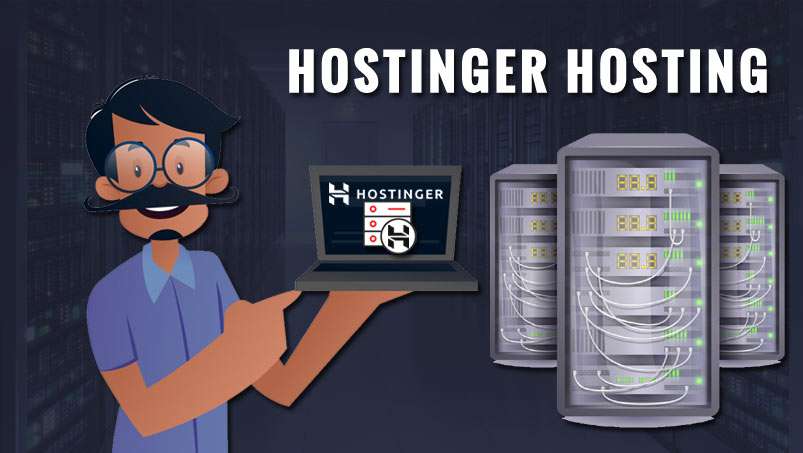 Are you planning to buy a reliable hosting provider? Out of many hosting providers, Hostinger is the best hosting that you can opt for. Hostinger is one of the popular hosting providers that enables you to make your website live easily just by press of a button.
The backend of all the websites hosted on this hosting provider is powered by the LiteSpeed caching to enhance the website loading times hence attracting more visitors and also their spending time on your websites.
The free SSL certificates provided by this hosting is an additional advantage that can have a huge impact for boosting your SEO and getting your websites ranked easily in the search engines. There are different plans available that you can choose as per your needs and based on your projects.
Stay tuned till the end to get all the details for getting all your doubts cleared! Before going into the details of the Hostinger Hosting Reviews, let me include some of the key points that will surely attract you to know more.
Brief Overview
In terms of performance, it is rated with a Global Grade of A+.
With this hosting, your page loading speed will be optimized to a great extent.
24/7 support is always available to help you out with any issues.
You will also get SSL certificates to include HTTPS that can help you to enhance the SEO since it is one of the crucial factors.
There are three types of cloud services available the Shared, VPS, and Cloud.
Hostinger is one of the reliable and efficient web hosting providers that offer excellent customer service with more than enough page loading times. Established in 2004, it has become a popular choice among bloggers or website designers due to the superb performance that it offers. Within just 17 years, Hostinger has almost 29 million subscribers across 178 countries.
The numbers that I mentioned above can make your doubts clear for the reason of choosing Hostinger as your website hosting. There is no need to worry about the stability of your website with 7 data centers across Brazil, Indonesia, Netherlands, Singapore, US, UK, and Luthiana.
All types of Web Hosting and services are provided by Hostinger at a very affordable price like Shared hosting, WordPress hosting, Cloud hosting, cPanel hosting, VPS hosting, etc. Here, we would like to suggest to you that Hostinger Shared Plans are the best for beginners with a tight budget but who want to achieve great performance and reliability. Rest, choosing the best hosting plan depends on your requirement and project needs.
Speed/Performance

One of the essential factors to rank up your website among millions of search results in Google, Bing, Yahoo, etc. is to optimize the website's speed that Hostinger takes care of in priority.
Uptime

It is not good at any point of time for your website to be down because as soon as visitors notice the '500-Internal Server Error' displayed, they will switch to a different website immediately and you will, in turn, lose your traffic considerably. Hostinger offers a 99.99% uptime guarantee that is superior and even if you notice that this uptime guarantee is getting violated, you can contact them to get your money back.

Customer support

No matter however great a blogger you become, your websites can always be open to malicious attacks or some kind of issues. That is the time when you need to contact the customer support provider of your hosting account. Hostinger provides 24/7 support with knowledgeable and helpful customer support representatives.

Interface

The interface provided by Hostinger is hPanel, unlike other hosting providers that provide you cPanel. This hPanel is very easy and effective to use and beginner-friendly as well.

Cost-effective

This hosting is very cheap and affordable so that everyone can buy it without worrying about their budgets.

Security

In all the plans offered by Hostinger, BitNinja Smart Security Protection is enabled so that your websites are less prone to black hat hackers or malware.

Money back Guarantee

One of the best features of Hostinger that we like is the 30-day money-back guarantee policy with which you can get refund without any difficulties if you are not satisfied with the services.
Hostinger Products/Services
Shared Hosting
This type of hosting is ideal for small to medium websites and there are three subcategories of plans offered by Hostinger, namely, Single, Premium, and Business. Coming to the single plan, you can host one website with 30GB SSD storage, supports 10k visits/month, one email account, free SSL certificate, 100GB bandwidth, and more. Related to the other two plans, all the features will be enhanced with the capability of hosting 100 websites and a free domain as well.
[affcoups id="6084″]
Cloud Hosting
Concerning cloud plans, there are three different types of plans namely, Start-up, Professional, and Global. The features provided by each of these hosting plans are much sufficient as per their names that continue to increase from Start-up to Professional to Global in terms of RAM, CPU cores, SSD storage, speed boost, etc. All the plans offer you the capacity to host 300 websites, thus this plan is ideal for large scale projects.
[affcoups id="6171″]
VPS Hosting
There are six different VPS hosting plans provided by Hotinger among which you can choose one as per your preference and features offered to boost up your website's speed up to more than 30 times than the shared plans with the dedicated resources to scale up.
[affcoups id="6173″]
WordPress Hosting
This type of hosting offered by Hostinger is an optimal solution for WordPress developers with a wide pool of themes and plugins. Even if you face any problem with WordPress, there is a dedicated WordPress team who can help you in all sorts of issues or development. The advanced features of this hosting include LiteSpeed Enterprise Servers, WordPress accelerator, jetpack plugin, dedicated WordPress support for 24/7, SSD storage, and one-click installation.
[affcoups id="6181″]
cPanel Hosting
cPanel hosting is a lot popular among all for its ease of use and offering plenty of features like dealing with the files, MySQL, stats, data tracking, and also SEO optimization. So, if you want to enjoy with the automation of web hosting experience, you can go for this type of hosting offered by this provider.
[affcoups id="6178″]
Website Builder
The website builder service, Zyro provided by hostinger is very easy and powerful to create an online website or an online store as per your preference even if you are not an expert in coding or designing. There are many pre-made templates that you can pick up and customize as you wish.
[affcoups id="6167″]
Ecommerce Hosting
Are you planning to open your personal eCommerce store? No worries, Hostinger also offers you that feature that can accept online payments with coupons, gift cards, and 100% commission free.
[affcoups id="6169″]
Apart from the above, Hostinger hosting also offers email hosting plans of two types, Business Email, and Enterprise Email. You can also search for domains available with the domain checker tool and purchase one if you want. So even if you are a domainer, Hostinger can help you in that field to.
Pros of Hostinger hosting:
Faster, efficient, and reliable.
99.99% uptime guarantee.
Single click WordPress installation.
Excellent customer support.
Affordable, pocket-friendly hosting option.
The interface is easy.
Cons of Hostinger hosting:
Faster, efficient, and reliable.
99.99% uptime guarantee.
Single click WordPress installation.
Excellent customer support.
Affordable, pocket-friendly hosting option.
The interface is easy.
Throughout this series, we have discussed enough the Hostinger hosting reviews. I Hope, by now, you have already decided which plan is good for you. So, without wasting any more time, purchase the one you like and enjoy the services.
We recommend using Hostinger hosting because most of our websites are hosted on this hosting provider, so we guarantee you that you can easily rely on this hosting blindly.
Moreover, you will get lots of offers provided by Hostinger almost throughout the year, so you need worry about your investment for purchasing this web hosting.