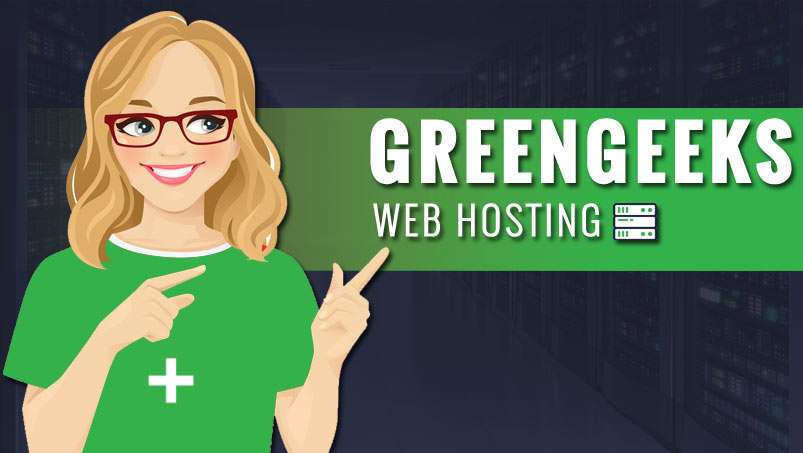 Choosing the right web hosting provider can be difficult since there are plenty of them and all claim to be the best. But can it be so practically? No, and that's the reason our team of experts has come up with one of the most Eco-friendly Web Hosting options, GreenGeeks.
This hosting company offers a large variety of plans that are affordable but rich in some robust features that mark the difference of this hosting with its competitors.
Are you aware that Data Centers are known to cause 2% of the world's total CO2 emissions? Yes and one more fact is that this is almost equal to the airline industry. So, that's a major concern, and hence GreenGeeks claims of providing the most environment-friendly web hosting.
It boasts of the fact that your website will be operating on a 300% green hosting platform that has been designed to optimally use the resources with no wastage.
Now, let us move on to the detailed GreenGeeks Hosting Review!
Brief overview
In this section, we want to take you through some of the basic factors as per our test which we will discuss in detail later in this review.
The page loading speed of the websites hosted on this hosting proves to be very fast, nearly 500ms.
It provides an uptime of nearly 99.95% on average, which is good enough.
The support is available 24/7 via Live Chat and email although the phone support is not for 24 hours.
It offers a variety of hosting services like Shared, WordPress, VPS, and Reseller Hosting.
Free SSL certificates and domain, unlimited databases, emails, unmetered bandwidth, lot of storage are some of the excellent features.
After getting all the results from the test that we performed, this hosting is ideal to achieve a 4.5 rating out of 5.
Trey Gardner founded this GreenGeeks hosting company more than 13 years ago in 2007. It is based in Los Angeles, California and now it has become the house for more than 6 lakh websites by offering Green Web Hosting.
The term 'Green Hosting' means such a type of hosting provider that uses various advanced technologies and processes to bring down the Carbon Footprint. As compared to most web hosting companies, GreenGeeks enhance the amount of positive energy on the environment by replacing the amount of energies used by the websites with 3 times of wind power credits by collaborating with BEF (Bonneville Environmental Foundation).
Thus, by hosting your websites on the platform of GreenGeeks, you are also helping the environment since you are returning 300% to the environment by consuming its 100%.
This hosting company offers you a variety of hosting services like Shared hosting, Virtual Private Servers, Reseller, and WordPress hosting too. The various data centers of this hosting company include Chicago, the US, Montreal, CA, and Amsterdam, NL. Let us take a look at the notable features of this web hosting now.
The features that have made this green hosting extra special are:
Speed

For any website, speed is one of the crucial factors since if a website takes a longer time to load, then the chances of losing traffic increase. But as per the test performed by us on this hosting, the loading speed is above the industry average which is nearly 500ms. Therefore, you can consider GreenGeeks as a reliable host.
Response Time

We also tested the response time of this hosting from various geographic locations and found that it is great in North America. However, in other places also, it is less than a second.

Uptime

Like the speed of a website, uptime is also an essential factor since if your website is down, then most of your visitors will leave your site. So, it is important to check the uptime of a website that mainly depends on the hosting provider. Here, also GreenGeeks did not let us down and provided an uptime of 99.95% on average for the one month of our testing with most of the days being 99.99%.

Support

This hosting company offers 24/7/365 customer supports via the Live Chat facility and email also. If you take the WordPress hosting plans, there is a dedicated team of WordPress experts who can help you with all the issues or queries. It also has phone call support but that is not available 24 hours, you can take the help of phone support from 9 AM to midnight EST.

Free Domain

Upon subscribing to the GreenGeeks hosting, you will get a free domain name for the first year after which you need to renew it. Also, if you want your websites to get transferred to GreenGeeks from elsewhere, then it also offers you free site migrations.

Money-back guarantee

GreenGeeks offers an industry-standard money-back policy of 30 days within which you can ask for a refund if not satisfied with the services.
GreenGeeks Products/Services
Shared Hosting
GreenGeeks is the Industry leading hosting service provider powered by green energy. It is providing best and affordable hosting services for technology CMS platforms like WordPress, Drupal, Joomla and a lot more. They are good at providing faster and eco-friendly hosting services. Their aim is to provide powerful eco-friendly web hosting services.
[affcoups id="5934″]
The shared hosting plans offered by GreenGeeks are 3 (Lite/Pro/Premium). All of them offer unmetered bandwidth, free SSL/domain/CDN/Nightly Backups/unlimited databases, and a 30-day money-back policy. Unlike the Lite plan which allows you to host only one website with standard performance, 50GB webspace, and 50 emails, the other two plans have made all these unlimited with faster performance.
WordPress Hosting
Greengeeks is providing one of the best WordPress services where different types of tools are available. They have a 99.9 % uptime guarantee and customer support is always available so that users don't have to face any issues. The website hosted at Greengeeks always has a very quick load time. If we talk about security then it is the main requirement, their servers will detect the malware and notify you if they found it and will help to clean it. It is developer-friendly, so users can take the help of technicians if they found any issues.
[affcoups id="5945″]
This hosting service is similar to the Shared Hosting plans with the same categorization and pricing that ensures very fast and secure web hosting for WordPress websites since it has been optimized for WordPress with dedicated WordPress experts support if needed
Managed VPS Hosting
Greengeeks provides the best VPS hosting services, customers support, users will get the best services from the management. Do you want to enjoy the flexibility of dedicated server hosting and the affordability of shared hosting? Then this VPS hosting can be an ideal fit for you. This hosting service also has 3 plans (2GB/4GB/8GB) that all offer cPanel/free SSL/Site Transfer/Softaculous License/10TB Data Transfer/Managed Support, and the Money-back policy. They mainly differ in the amount of RAM (2GB to 8GB), the vCPUs (4-6), and the SSD disk space (50GB – 150G).
[affcoups id="5956″]
Here users have the option to select multiple data center locations from where they want the support. There will continuous monitoring of all the activities happening on your website and will if any problem persists then it will be done without knowing you. Greengeeks use the latest processor naming Intel Xeon, which is reliable and has amazing performance. It provides 99.9% uptime and if you want to switch cPanel to Greengeeks then it will be done by them free of cost.

Reseller Hosting
Users can start their business on Greengeeks by reselling the hosting to other users or can add an extra source of income. If you are planning to open your own hosting business, then subscribe to this service on GreenGeeks among the 3 plans that are offered like the RH-25, RH-50, and RH-80. The differences between the three plans mainly lie in the amount of Disk Space, amount of transfer allowed, and the number of cPanel accounts.

[affcoups id="6721″]
Greengeeks provide a 24/7 monitoring service so that they can detect Malware and notify you if there is something. As they are the developers and they knew how to satisfy their clients, users will get all the latest tools like SSH access, Git, and many more. Still, if you find any issue then their support staff is always ready to help you. It doesn't matter what your goals are, this hosting company is flexible and scalable so users don't have to worry about it.

Dedicated Server Hosting
This hosting service is ideal for large-scale businesses since they require dedicated resources for their websites due to the huge amount of traffics. There are 4 plans (Entry Server/Standard Server/Elite Server/Pro Server) that differs in the processor architecture of the servers, RAM, and SATA Drive. All of these plans come with 5IPs and a 10k transfer.
These are the main services offered by GreenGeeks. Besides, it also has a service of Website builder that you can use for building your websites easily and faster.
The most eco-friendly web hosting with a reduced carbon footprint.
The servers are fast with three main data centers and free CDN by Cloudflare.
Plenty of features that you can see above.
Pocket-friendly pricing of the plans.
Variety of hosting services to suit everyone's needs.
Cons of GreenGeeks hosting:
The phone call support is not available for 24 hours.
The renewal prices are a bit higher.
In a summary, we do recommend this green web hosting provider GreenGeeks since it is enough reliable and trustworthy provider. Besides committed to only the business of providing web hosting, it also serves a great mission towards the well-being of the environment.
Yes, it is a fact that this hosting provider is the best one that we have seen but considering all the features, this is much solid and robust web hosting that you can opt for.
Hence, give it a chance and make your hard-earned money invest not only for getting a web host but also for being a part of their mission towards the environment.