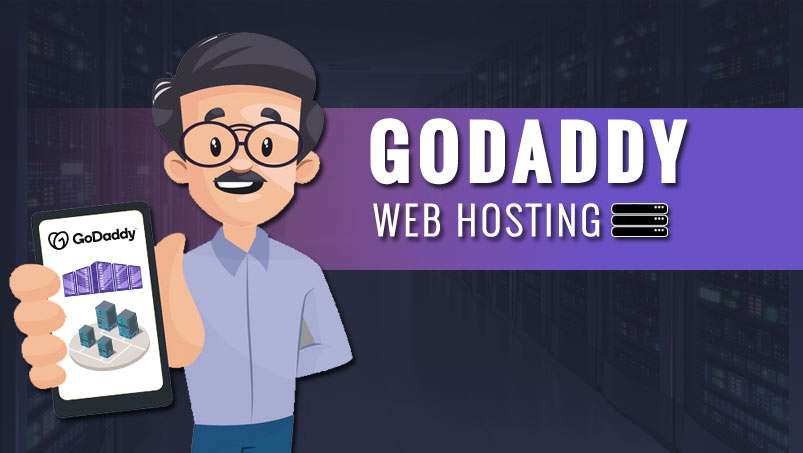 Building a website is easy but finding the right web hosting is not so easy. This is because there are a lot of reliable and popular web hosts in the market. But, no matter whether you are an individual blogger or a businessman, it is a must that you have heard about GoDaddy. It is a popular domain registrar and a web hosting provider as well.
GoDaddy is one of the rare web hosts that offer both Windows and Linux web hosting. They offer a variety of hosting services like Shared, VPS, Dedicated Server, Managed WP hosting, eCommerce hosting, and more. Thus, you can consider this as a feature-packed web host and that's why statistics have shown that one out of 20 websites is hosted on GoDaddy.
Hence, we prepared this review, so that you can have all the necessary information regarding this web host handy. We will go into details about this hosting titan that it can help you to choose wisely and have enough knowledge before buying a plan.
Let's get started!
Brief overview
Without going into the details straight away, we want you to take a look at the below bullet points as per our test performed by hosting a website on GoDaddy Web Hosting provider.
The loading time of the website as observed is good enough, on average it comes out to be around 550ms.
The website's uptime is great about 99.94%.
The support provided is also excellent via Live Chat, Phone call, and WhatsApp.
A lot of hosting services and plans are offered.
The special features of this hosting are unmetered bandwidth, a good amount of storage, domain name, and free Office 365 email for the first year.
As per our test results, GoDaddy is eligible to grab a 4.5 rating out of 5.
GoDaddy hosting provider has become one of the world's largest and popular among users. It empowers more than 20 million entrepreneurs and serves more than nine thousand employees. There are more than 82 million domain names under the management of GoDaddy and thus, it has made its place as the top domain registrar across the world.
In 1997, Bob Parsons founded a new company 'Jomax Technologies.' But, shortly, he realized the name is very difficult to remember and decide to change the name to 'Big Daddy.' Unfortunately or fortunately, this domain name was taken and he chose 'GoDaddy' instead.
In 2014, just seven years later, GoDaddy featured as the largest domain registrar, and ever since it has held its position in the market of web hosting. Now, let us move on to the next section to take a look at the various features of this hosting provider.
The major features that made GoDaddy a popular web host are –
Uptime

The website's uptime is an essential factor because if a site remains down, the chances of losing your visitors will be more and hence your conversion rate will become lower. Thus, you need to check the uptime offered by a web hosting provider. As per our test, GoDaddy performed quite well and it comes out to be 99.94% uptime on average which is nearly 5 hours of downtime in one year. Therefore, it is good enough.
Performance

Only the great uptime of a website does not mean that you can maintain your visitors. It is also important for a web host to offer good performance in terms of the loading time or speed. Because, as per the statistics, most Internet users tend to leave the websites that load slowly. And, GoDaddy has not let us down in this aspect too. As per our test results, the loading time required for a website hosted on this provider is nearly half a second which is great.

Interface

Since GoDaddy offers both Windows and Linux web hosting, it uses two different kinds of control panels separately, namely cPanel for Linux servers and Plesk for Windows. Both these control panels are highly known to be user-friendly with proper categorization that enables you to easily install various apps, managing emails, databases, etc.

Support

One of the major features that every user wants to get for the web hosts is the 24/7 customer support and GoDaddy offers that pretty well. The support offered by GoDaddy is great and you can leverage that through Live Chat, the phone call in different languages, and also WhatsApp. The knowledge base is also decent.

Money back Guarantee

Yes, almost all the best hosting providers offer a money-back policy and GoDaddy is not an exception as well. The yearly subscription plans feature the industry-standard 30-day money-back policy while the monthly plans come with a 48-hour money-back guarantee. This policy ensures you get a refund if you are not very satisfied with their services.
After going through the major features, go through the hosting services offered by GoDaddy.
GoDaddy Products/Services
GoDaddy offers a wide range of hosting services that include-
Shared Hosting
GoDaddy has four Shared hosting plans (Starter/Economy/Deluxe/Ultimate) with two basic plans, Starter and Economy. Both allow you to host only one website with unmetered bandwidth and free one-click WordPress installation. The difference between these two lies in the RAM, Storage, Databases, and the Economy plan have two things extra that include a free Domain name and a free Professional Email. The other two plans allow hosting unlimited websites with enhanced processing power, unlimited Storage, Databases, etc.
[affcoups id="6088″]
WordPress Hosting
There are four plans (Basic/Deluxe/Ultimate/eCommerce) and all the plans include SSL certificates, Domain, and Business Email for free. The rest of the features include 30GB-unlimited Storage, 25k-unlimited Traffic, Backup protection, daily Malware Scans, and more that go up the ladder with the plans you choose.
[affcoups id="6090″]
VPS Hosting
This hosting service is much beneficial because you can enjoy the performance of Dedicated Servers at a lower cost. Here also you will have four options (1 vCPU/2 vCPU/4 vCPU/8 vCPU) to choose from with more number CPU cores, RAM, SSD storage depending on the plan you choose.
[affcoups id="6092″]
Dedicated Servers
Large-scale businesses require this hosting service mainly to enjoy the maximum performance with a single server dedicated to one website. You can choose from two types of servers offered by GoDaddy, namely, HDD and SSD NVMe. Coming to the plans, there are four that feature Intel or AMD processors, enhanced processing power, amount of DDR4 RAM, and storage.
[affcoups id="6094″]
These are the main hosting services offered by GoDaddy. Besides, you can also apply for Ecommerce hosting, Reseller hosting, and a simple Website builder. Last but not least, you can also use this web host to purchase domains for which it has gained its first popularity.
The uptime is decent.
Both WordPress and Linux-based web hosting.
The support is well up to the expectations.
Lots of hosting services and plans.
The loading speed experienced is amazing.
The customer support response via Live Chat can delay.
Unlike some of the other hosts, GoDaddy does not offer a free CDN with shared hosting,
So, in a summary, we do recommend GoDaddy and it comes among the top five hosting providers as per our preference. After going through this guide, we hope that you will also agree to our preference. Although GoDaddy is a popular name, very few people are aware of all the ins and outs of this hosting.
That's the reason we tried to put all the important information here so that you can make your choice wisely and invest your money in the right place.
Lastly, we would like to mention that some of our websites are hosted on this web host for three years as of now and we are very much satisfied with their services and features.