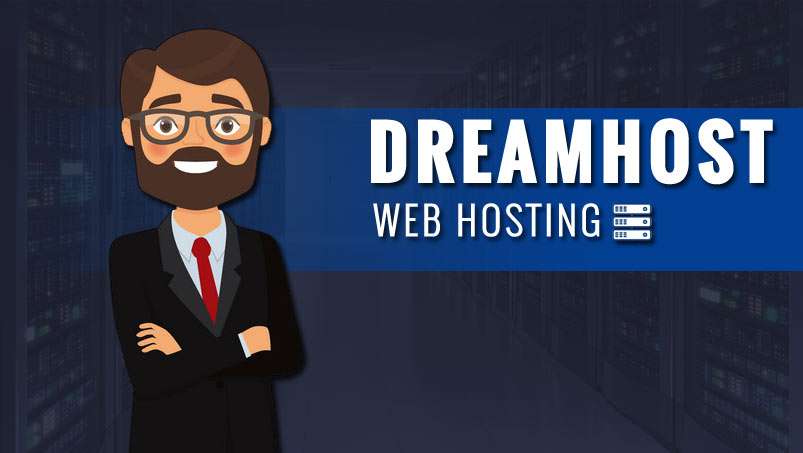 Feeling confused to choose the best hosting for your website? Why not select Dreamhost! It is one of the best hosting providers that can satisfy all your needs and purpose by offering a wide range of hosting services like Shared, VPS, Dedicated, or WordPress hosting.
Dreamhost is now nearly 25 years older with the home of nearly 1.5 million websites across the world. The 24/7 customer support with US-based experts can help you anytime in case of any major or minor issues. This hosting being faster and secure can help you to get better conversion rates and higher search engine rankings.
The 97-day money-back guarantee can ensure you to be enough confident about using their services and asking for a refund if you do not prefer any of its services.
Now, let us start our tour to visit the various aspects of Dreamhost Hosting Reviews in detail.
Brief Overview
Directly going into the details can confuse you more, so we will take you through some of the bullet points below:
The page loading speed hosted on Dreamhost is quite fast, about 1.2s only.
The uptime guarantee offered by the brand is 100% though, in practical scenarios, it comes up to nearly 99.6%.
The free SSL, Multi-factor authentication, Auto-enabled SFTPs are some of the notable security features of this hosting.
24/7 customer support can help you to fix any issues.
As per our preference, it grabs 4.5 stars out of 5.
Founded exactly 25 years ago in 1996, Dreamhost is a Web Hosting Company and a Domain Registrar based in Los Angeles owned by New Dream Network, LLC. This company serves over 4 lakh customers across 100 countries with more than 15 lakh websites hosted.
The main reason for its popularity can be traced out from the core values that they follow like Embracing Open Source, Speak Hacker, Empowering people, and Superhero services.
This hosting company has its data centers located in Ashburn Virginia and Hillsboro Oregon. The cloud hosting services offered by Dreamhost is Dreamcompute that has its data centers located in Ashburn, Virginia with the Dreamobject at the Irvine, California data center.
The various hosting services offered by this hosting provider are Shared, VPS, Managed WordPress, Dedicated Server, and Cloud hosting.
There are plenty of special features that have made Dreamhost hosting so popular. Some of them are:
Easy Control Panel


Dreamhost uses its own control panel instead of offering a third-party one. You will get this for free with any package that you buy. But, there is a certain learning curve for using the control panel else it will feel complicated.
Free SSL


All the users of Dreamhost will get free SSL certificates. Besides, it also offers SSH and SFTP access for advanced security purposes. You can also subscribe to the paid security app, DreamShield to get more advanced security options.

Speed


The loading speed of a website is very important to get more visitors to your site. This is because if they see that buffering while loading the pages of a site, most of them tend to leave that website and navigate to other sites. The loading speed offered by Dreamhost by utilizing SSD drives, HTTP2, and PHP7 is enough which is on average 2 seconds.

Uptime


This hosting company boasts of 100% uptime guarantee for any package you purchase. It also promises to provide you a credit of one day for every hour of downtime experienced. Please keep in mind that 100% uptime is an ideal case but for practical scenarios, it goes up to 99.7%.

Support


For any issues or queries, you always reach out to the 24/7 customer support experts either by opening a support ticket or through a live chat facility. The downside is that there is no direct call support offered by Dreamhost.

Money-back Guarantee


The impressive 97-day money-back guarantee is also one of the best to make you feel confident about selecting this web hosting provider.
Dreamhost Products/Services
Shared Hosting
Dreamhost Shared hosting packages are a great opportunity for people who are looking for high-performing servers at pocket-friendly prices. If you are a blogger or small business owner, Dreamhost Shared hosting plan will power up your online presence. The Shared hosting services offered by Dreamhost consist of two plans mainly, Starter pack and an Unlimited pack. With any plan, you will get a free Domain name, SSL certificate, fast SSD storage, Email hosting, free Website Migrations, Uptime protection, Website builder, and many more.
[affcoups id="6096″]
Dreamhost is helping amateur bloggers and online entrepreneurs to start their online journey with a user-friendly interface, one-click WordPress setup, and easy to use advanced Control panel. Dreamhost Shared hosting suits perfect for people who are working on their first website and they can upgrade their plan based on growth and future requirements.
VPS Hosting
Dreamhost VPS hosting provides the best services to their users, which is like an Operating System where users can install any software. Users will be provided resources that can be used by themselves only and the whole setup is quite easy. The server will get upgraded in just 10 seconds, users just need to pay a single time to buy VPS hosting and you will be able to get some amazing and powerful features, which are not available with other hosting services. The use of the Control panel is quite easy so that users can customize things easily.
[affcoups id="6098″]
In this category, you will have four options to subscribe (Basic, Business, Professional, and Enterprise) with three time durations like monthly, one year, or three years. With VPS Hosting, you will be provided with managed performance, more security, unhindered performance with your own server resources, unlimited bandwidth/traffic, expandable RAM/storage, etc.
WordPress Hosting
WordPress Hosting makes it quite convenient for a user to manage their website smoothly. It provides all the features that are relevant for us like a free SSL certificate and a free Domain with privacy protection. There is also a feature that makes all the assembled apps to install just a single click. You can install WordPress with just a single click and the automated backup feature keeps all your backup ready. Your safety is always a topmost priority and Dreamhost doesn't charge a single penny to keep your information secured.
[affcoups id="6104″]
Managed WordPress Hosting
Dreamhost Managed WordPress Hosting has is a bit expensive but comes with all the advanced features so that users don't have to face any inconvenience. There are some powerful tools like Email, Staging, Backups, free WordPress Migration, and 24/7 WordPress Expert Support that will help to grow your business.
[affcoups id="6100″]
If you want to build your website using WordPress, then this is the best hosting service that you can opt for with high-performance and hassle-free WordPress. As it has a powerful speed and amazing customer support, the daily automated backups provide a lot of convenience. This hosting will solve all the problems that you are facing at the time of operating a website. As it is fully built around all the WordPress Weaknesses and Strengths.
Dedicated Server Hosting
To scale up your professional and well-established business, dedicated server hosting can be your ultimate choice though it is expensive as you will have the servers for yourself. Whether you take the standard or the enhanced plans, you will be provided with root access, local MySQL database server, DDoS protection, and more with the difference in the capacity of RAM, HDD capacity, cores, and threads of the CPU.
[affcoups id="6102″]
Email Hosting
Dreamhost Email hosting allows the users to promote their business at a larger level. This email hosting works with any domain or any server whether you have purchased it from here or not. There are custom aliases, which are used to send mail and through custom filters, it happens more conveniently. The leading IMAP support keeps Email sync on mobile or laptop and there is also an anti-spam feature that will keep your inbox safe from threats, spam, and phishing attacks. So users don't need to worry about anything when they are choosing Dreamhost Email Hosting plan.
[affcoups id="6726″]
Cloud Hosting
The cloud hosting service of Dreamhost is known as Dreamcompute. With this, you can launch your websites in less than 30 seconds with full root access to the servers.
WP Website Builder
Are you worried that you cannot build your website since you are not from any technical background? Don't worry; use the WP website builder of Dreamhost to build your site confidently with the easy tools and simplified WordPress.
These are the basic hosting services that you can enjoy with Dreamhost hosting service. Besides, you can also subscribe for the email hosting services, or purchase domains to flourish your career in domain flipping. Additionally, some pro services are also there like design services, marketing services, website management services, or social media marketing.
Pros of Dreamhost hosting:
You will be provided with a free domain and SSL certificate even with the cheapest plan.
24/7 customer support is helpful.
Unmetered bandwidth.
WordPress hosting offers high performance and reliability.
The pricing plans are affordable with not a lot of renewal prices.
The security features are amazing.
One of the best hosting providers to offer the longest money-back guarantee.
The WordPress staging feature is great.
Cons of Dreamhost hosting:
There is no call support provided by Dreamhost.
The servers are Linux-based,
Throughout the review, we have explained various features of Dreamhost along with highlighting its advantages and disadvantages. Considering overall, we do recommend Dreamhost as per the full list of features at a reasonable price rate.
Hosting your websites with Dreamhost guarantees smooth execution with decent loading speeds and time. One of the major highlighting points is the unique control panel that differs it from the other competitors though it may seem difficult in the first use.
So, in a nutshell, try this hosting provider and if you do not like it, just ask for the refund in the 97-day money-back guarantee period.