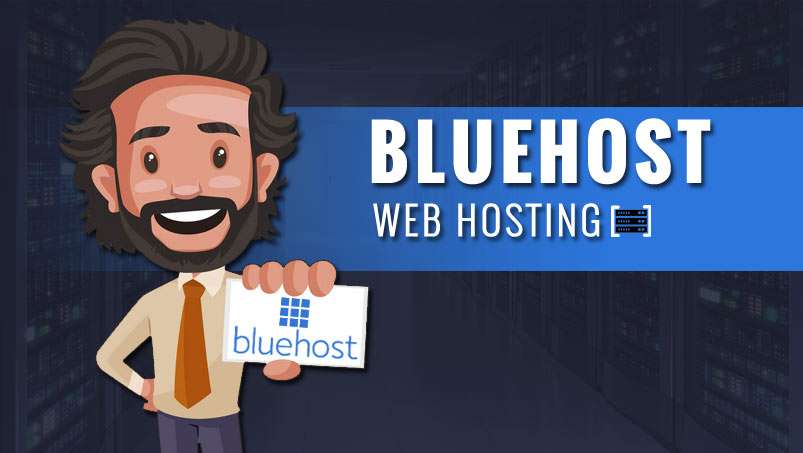 Do you need solid and best hosting for your website? Then, Bluehost is there to offer you plenty of deals and services that can make your experience better. Most of you have heard about Bluehost which implies that it is much a much popular hosting company but that can't be the sole reason for selecting it. That is why we have prepared this guide on the reviews of this hosting to make you aware of the reason for Bluehost becoming the home for more than 2 million websites across the globe.
Out of the top 3 recommendations for hosting by WordPress.org, Bluehost includes one position. This thing is enough to make you feel that why you must consider Bluehost hosting. Still, if you are not feeling confident enough to go for this hosting, check this guide till the end and get all your doubts cleared.
Without wasting any more time, let's start!
Brief overview
Super uptime guarantee of 99.96%.
The page loading speed is very fast.
Much easy to use and required no pre-requisite knowledge.
24/7 expert customer support.
Plenty of features and security options are incorporated.
The marketplace consists of plenty of free and premium themes for your website.
Security features like malware protection and protection against hackers.
In-built SEO tools service available.
Email hosting plans are also there.
Owned by the Endurance International Group, this is one of the twenty largest web hosting companies serving as the residence of over two million domains. Bluehost was conceived by Matt Heaton in 1996 although he created two other web hosts before finally settling for Bluehost in 2003.
There are various hosting solutions offered by Bluehost like Shared hosting, WordPress hosting, VPS hosting, WooCommerce hosting, and Dedicated hosting. There are 6 data centers across the globe of Bluehost that are,
Provo, Utah, USA.
Orem, Utah, USA.
Mumbai, India.
London, UK/Europe.
Hong Kong, China.
Shanghai, Mainland China
The features for which Bluehost is so popular are as below:
Speed and Performance


One of the important factors for ranking your websites is the loading speed and performance that depends majorly on the hosting provider company. In this aspect, websites hosted on Bluehost offer very fast loading speeds and reliable performance.
Uptime


For any website, the site must remain up all the time so that you do not lose any visitors. Bluehost is known to offer an uptime guarantee of nearly 99.96% which is more than enough.

Customer Support


The customer support of Bluehost hosting consists of all knowledgeable experts. You can contact them anytime through email and chat as they are available 24/7.

Security Features


This is also one of the factors that have made Bluehost much popular since that reduces the chances of malware attacks to a great extent. With the Sitelock feature, malware attacks can be prevented while CodeGuard reduces the chances of hacking from the black hat hackers.

Simple and Intuitive Interface


Bluehost provides cPanel that is much user-friendly so that all the users can use it easily even during their first usage.

Money-back Guarantee


Similar to Hostinger, Bluehost also offers a 30-day money-back guarantee with which you can get your money refunded if you are not satisfied with the services.

Server Response Time


No matter whatever countries you are targeting for your websites hosted on Bluehost, the response time is low in most of the countries although it is minimum in the US servers. For checking, you can use several tools like Bitcatcha, or others.
Bluehost Hosting Products/Services
Shared Hosting
Bluehost Shared Hosting is the most in-demand hosting package among all hosting plans because of its affordability. It provides budget-friendly shared hosting packages by allowing multiple users to share SPACE on a single server.
[affcoups id="4850″]
Bluehost is providing multiple offers like Basic, Plus, Choice Plus, and Pro with features under shared hosting plans such as SSL certificates, Domain Manager, Resource Protection, Scalability, Free Domain, Free CDN, Automatic Virus detection, and many more.
The choice of all these plans depends on your needs like a single site, multiple sites, power, security features, etc. Bluehost shared hosting is perfect for your needs if you are a blogger or small business owner or looking for a Portfolio Website.
Dedicated Server Hosting
Dedicated Server is a hosting option in which a physical server is dedicated to a single tenant. It is ideal for large organizations with high traffic. In this hosting option client gets full control over the server to ensure the optimal performance which includes performance and security and can access the server to customize the CPU, RAM and storage space. There are three subcategories like Standard, Enhanced, and Premium that ascends in the Processor Speed, Storage, RAM, Bandwidth, and IP Addresses.
[affcoups id="5379″]
Mostly Dedicated servers are used for mature websites with high performance computing setups and streaming services. As the dedicated servers are not shared with any other user, the performance of the website will be stable and predictable.
VPS Hosting
Virtual Private Server (VPS) sits in between shared and dedicated. It uses virtual technology to provide you with dedicated resources on a server within the shared server, which means the client gets root access to customize the processor, RAM and storage.
[affcoups id="5381″]
VPS hosting has become more popular because of lower cost and provides you better reliability, scalability, security and performance when compared to the Dedicated server. It has three categories of plans, namely Standard, Enhanced, and Premium that offer extra features as you go up like cores, storage, RAM, bandwidth, IP addresses. Virtual Private Servers are mainly used by game makers, programmers, SaaS providers and companies that are in need of secure and affordable backup.
WordPress Hosting
WordPress is a website creation platform and Content Management System (CMS) used to build websites very easily without writing any code. WordPress is written in PHP that uses a MySQL database. It is the easiest and most powerful Blogging and Website Builder across the globe from blogging to e-commerce to business and portfolio websites.
[affcoups id="5001″]
As per the size of your business, you can select among the Basic, Plus, and Choice-Plus plans. With all the plans, you will get automatic WordPress installation, Microsoft 365, automatic updates, secure log-in, and free domains. It helps you to build and manage your websites very easily just by using your web browser. Since it was released in 2003, it has become one of the most popular web publishing platforms in the world.
Email Hosting
Email Hosting is a service which provides email servers to the companies looking for robust email solutions. Dedicated email servers take on the email duty and reduce the load on the company's hosting server. Email hosting offers a more customized experience where you can choose the services that you would use. It also offers more personalized experience which gives more credibility to business.
[affcoups id="5386″]
Email hosting is offered by most web hosting providers. Personalized email addresses give more credibility to your business. Most of the small and medium businesses use email hosting for their email needs. Some web hosting providers offer free email hosting.
Online Store
Online Store is a website through which one can sell or buy products or services. To start an online store firstly you need a website and web hosting to operate, manage and host the site and a domain name to set up its online presence. There are some online store builders such as Shopify, Woocommerce, Instamojo and Drop Shipping etc. in which you can easily build a website for your business by using pre-installed themes or drag and drop methods and sell your products online. These builders include everything that is required to sell online.
[affcoups id="5384″]
With these WooCommerce online stores, you can build, promote, and start selling from an online store with a lot of eCommerce tools, plugins, security, and expert guidance. Upon taking up this plan, you can enjoy free SSL, multiple Caching layers, Site Monitoring/Stats, free Domain, unmetered Bandwidth, etc.
Professional Services
There are many professional services offered by Bluehost that can enable you to stay focused on your business and delegating the design and marketing needs to Bluehost experts. The services provided include Full-service websites, SEO services, Pay-per-Click websites, and Website migrations.
Blue Sky
By choosing this plan, you can get WordPress experts by your side who can help you to build, grow, and maintain the WordPress websites in every step.
Pros of Bluehost hosting:
Free SSL certificates.
Various hosting offers and deals are there throughout the year.
Free domain for one year included for all plans.
24/7 customer support available.
The entry plans are comparatively reasonable.
Easy and simple, intuitive interface.
Plenty of databases like MySQL, PostgreSQL, etc.
Cons of Bluehost hosting:
Site Migration is not free.
Hope you have found these Bluehost hosting reviews helpful. So, what are you waiting for? Go ahead, choose a plan that suits your needs and subscribe to it to enjoy this best hosting. All the points mentioned above are from our personal experience so we can assure you that all the reviews are genuine.